Scott says data supports reopening schools
Published: Jul. 17, 2020 at 6:23 AM EDT
|
Updated: Jul. 17, 2020 at 8:14 PM EDT
MONTPELIER, Vt. (WCAX) - Governor Phil Scott and administration officials Friday said Vermont schools can remain on track to in-person learning this fall.
"At this time, Vermont data continues to support the reopening of schools and we will reassess that at any point," Scott said. "Parents and our kids deserve the best education that we can possible provide."
Back to school is still the plan for the fall in Vermont, although most likely through a hybrid model of in-person classes and half online learning.
Health experts say it's safe for kids to return to the classroom since the risk of spreading COVID to other kids is low. Dr. William Raszka, Jr., a pediatric specialist, who also wrote a paper on kids returning to school, says studies involving students in Europe shows promising results.
"Children are less likely to become infected, the second is that children are less likely to develop severe disease, and thirdly -- and critically -- children seem less likely to transmit the virus that causes COVID-19," Raszka said.
Vt. State Epidemiologist Patsy Kelso says Vermont has suppressed the disease enough to make school acceptable this fall. She says right now children zero to nine make up 3-percent of Vermont cases and the 7 to 19 age group make up 7-percent of the cases.
"We have, through our community mitigation efforts in the past few months, achieved a level of disease suppression in our communities that we think it's appropriate to take this next step in opening schools," Kelso said.
Governor Scott says the impact of keeping schools closed would have a negative impact on kids emotional, social and intellectual development. "We know a fully remote format creates gaps that some students fall through, and unfortunately this has a greater impact on some students than others," he said.
But the governor says our school reopening plans don't happen in a bubble. He says the current spike in cases nationwide deeply concerns him. "We're seeing a forest fire take hold across the South and West. I'm worried it will backtrack to the Northeast and eventually effect us here in Vermont," he said.
There's about six more weeks until students return to school and Scott says there's time to work out more plans, but he also says the state has time to reevaluate opening plans if the virus numbers take a turn for the worse.
HEALTH UPDATE
Vermont Health Commissioner Dr. Mark Levine says they continue to closely monitor a possible cluster of cases in the Manchester-Londonderry region. Of the 59 people who tested positive there with antigen tests rapid tests, 17 have been retested with the more accurate PCR test and just two came back as confirmed COVID cases. He says the other 15 appear to be false positives. The state is still working to test the rest of the people and the community. Levine cautioned against using antigen tests on people who don't have symptoms since there isn't research on how effective they are. He says they are intended as screening tools for people with symptoms.
As of Friday, Vermont health officials reported 1,334 coronavirus cases in the state and 56 deaths. A total of 88,246 tests have been conducted, 1,338 travelers are being monitored, 3,757 have completed monitoring and 1,121 have recovered.
Levine reacted to the directive by the Trump administration this week that hospitals send COVID data directly to a central database instead of the CDC, as has been done in the past. The move, which was quickly retracted, raised concerns that the information could be politicized or withheld from the public. Levine said it's still too early to tell, but that the administration acknowledged the state also has record of that information.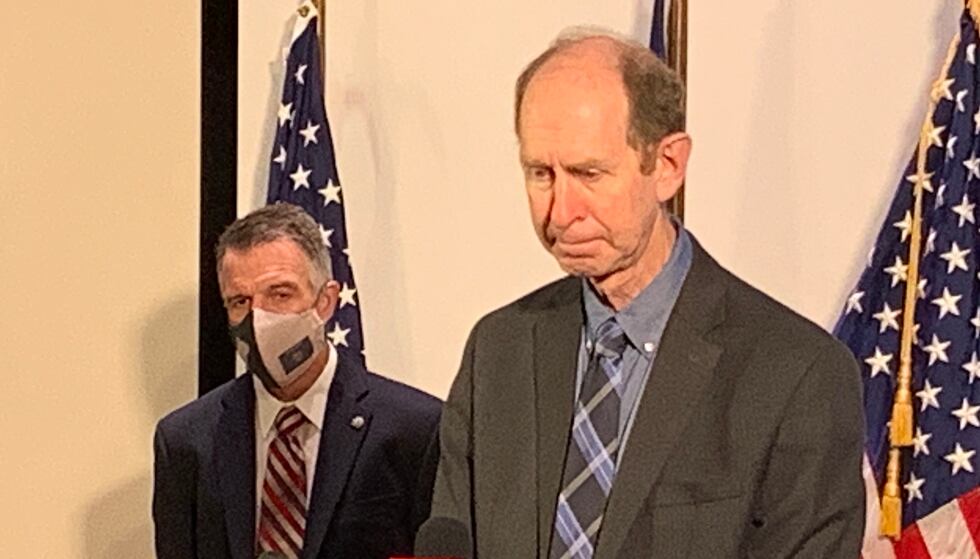 The state Friday released the latest modeling on the virus and FDR Commissioner Michael Pieciak says Vermont viral growth continues to trend low, positive tests remain low, and the state has plenty of hospital beds.
ECONOMIC RECOVERY GRANTS UPDATE
The tax department has distributed $33 million in Emergency Economic Recovery Grants to 800 applicants so far and the Agency of Commerce and Community Development has 1,600 hundred applications they are reviewing with 334 approved so far. There's still money left in both programs.
TOO EARLY TO TELL SCOPE OF UNEMPLOYMENT FRAUD
Labor Commissioner Mike Harrington says the state has seen some fraudulent unemployment claims but it's not widespread as has been seen in other states. He says some money has been recovered and cases have been sent to law enforcement, but some money is lost and the state will have a better idea how much in a couple of weeks.
AGRICULTURE, HEALTH CARE ASSISTANCE PROGRAMS OPEN
Applications for the Agriculture Assistance Program will open Friday. Agriculture Secretary Anson Tebbetts this week announced the $25 million relief program for dairy farmers.
Health care providers of all sizes can also submit applications for $275 million in grants.
Copyright 2020 WCAX. All rights reserved.