Black Lives Matter protesters confront police about Burlington arrest
Published: Aug. 26, 2020 at 6:04 PM EDT
|
Updated: Aug. 27, 2020 at 8:37 AM EDT
BURLINGTON, Vt. (WCAX) - There was a tense confrontation between Black Lives Matters protesters and police Wednesday evening outside the Burlington Police Department as the group questioned the acting chief after the arrest of a Black man.
As protesters continued their 24-hour protest outside the police station, they heard police were arresting a Black man, later identified as Ibrahim Garelnabi, 26.
The arrest took place on College Street around 6 p.m. Protesters left the police station to film the arrest as Garelnabi was being put in handcuffs. When the group returned to the police station, they had a lot of questions.
They first entered the lobby and banged on the windows, chanting "Where is Ibrahim?" When no officers responded, they walked outside to the back parking lot. That's when Acting Chief Jon Murad went outside to talk with the group. He told the crowd that officers arrested Garelnabi after a road rage incident.
"We had a report of a man who had followed another person in a road rage incident for 15 minutes. That individual pulled into this parking lot and the other individual who had been following pulled away," Murad said. "We took the report from the individual. And that individual left this place after giving the report, the second individual started to follow him again."
Protesters wanted to know why there were three police officers sent to the scene and they accused the officers of using excessive force. While Murad denied that excessive force was used, he explained the use of force. "So the use of force that was used was because [Garelnabi] tensed while being handcuffed," Murad explained.
Protesters didn't buy it. "He tensed?" asked one protester. "Dude, what does that mean?"
Protesters also reiterated their demands that Ofcs. Joseph Corrow, Jason Bellavance and Cory Campbell be fired after being caught on body camera video using force during an incident last year.
"There are many people who are legitimately scared of three officers that are on your force. And what you tell the city, what you tell the community is, 'I'm not going to do away with these individuals,'" one protester told Murad. "Get rid of them."
"Fire them," another protester shouted.
Murad told protesters that just as Interim Chief Jennifer Morrison and Mayor Miro Weinberger have previously said— those issues have been resolved and they do not plan to rehash them.
Protesters declined to speak with WCAX News.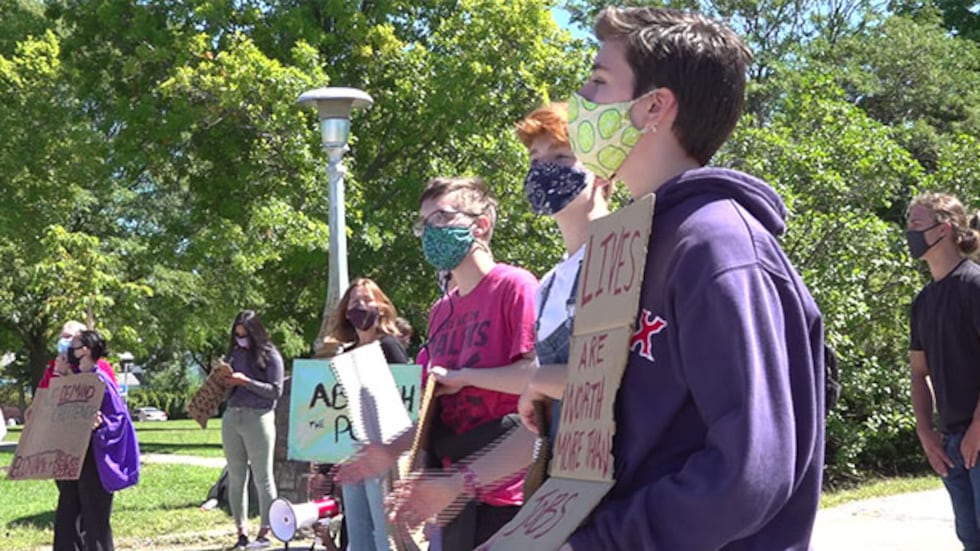 Black Lives Matter protesters have been camped out in front of the Burlington Police Department for more than 24 hours, demanding justice for Jacob Blake, the Black man shot in the back by police in Wisconsin last weekend. They're also calling for action here in Vermont.
Related Story:
Demonstrators rally at Battery Park overnight to protest Jacob Blake shooting
Copyright 2020 WCAX. All rights reserved.