Vt. officials mobilize to address data breach, lawmakers vow to investigate
Published: Feb. 3, 2021 at 6:03 PM EST
BURLINGTON, Vt. (WCAX) - State leaders are still scrambling to identify the magnitude of a technical error at the Vermont Department of Labor that compromised the identities of thousands of Vermonters.
As the state worked Wednesday to identify the tens of thousands of Vermonters who had their unemployment tax data sent to strangers, top lawmakers called for an investigation into what caused the mishap.
Vermont Labor Commissioner Mike Harrington Wednesday said "human error" was the likely cause of the mixup that sent 1099-G forms of some 44,000 Vermonters to the wrong address. "It looks like the way the file was sorted caused the information to be shuffled," he said.
Post offices across the state are trying to intercept some of the rogue 1099′s while the state is asking everyone who was issued one from the state to send it back, even if it's correct.
Governor Phil Scott is dispatching tactical teams to the department to help reissue new tax forms to over 80,000 unemployment recipients so they can file on time. He's also bringing in a new deputy commissioner, former Franklin County state senator Dustin Degree to help out.
While Scott has asked Auditor Doug Hoffer to launch a performance audit, lawmakers are also calling for an investigation to determine the full impact of the error and who's at fault. "To ensure that their economic security is safe, especially during this heightened time during the pandemic," said Rep. Jill Krowinski, D-Burlington
Vermont Attorney General T.J. Donovan has also said his office is working with the labor department to reach out to affected Vermonters to provide information and make sure they don't fall victim to fraud. "I think the risk here that people are concerned with is identity theft. I would caution anyone if they were to take information, that is a felony and you will be prosecuted," Donovan said.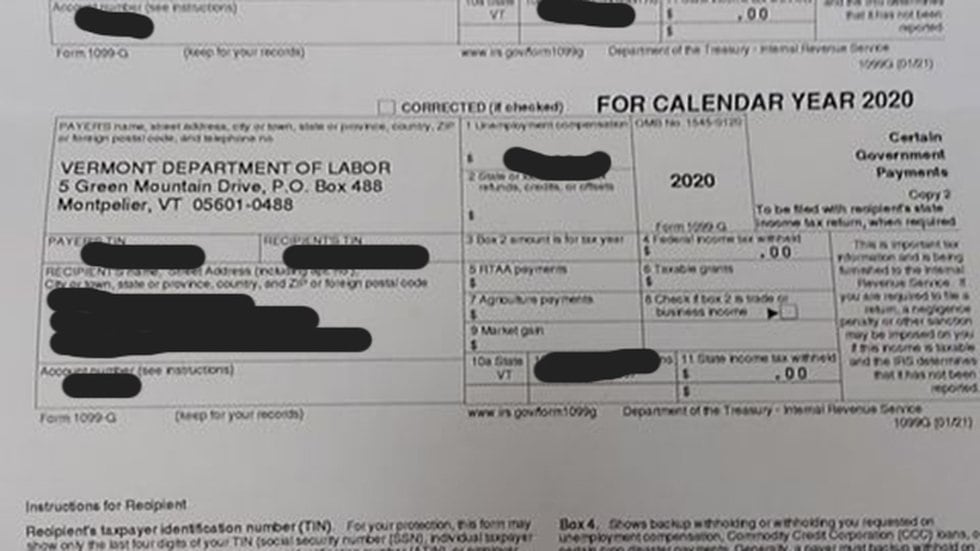 As the state works to sort out the snafu, security experts say this is a learning lesson that illustrates the state doesn't have adequate rules and regulations for how it handles your private information. "They aren't in the business of creating policies, about how information is handled by state government officials and other businesses," said Judy Boyd, a cyber forensics expert at Champlain College. She hopes the massive mixup will spur discussions at the Statehouse to create a new security officer position in state government.
Commissioner Harrington says there are no reports of identity theft in connection with the mailings. "And give some reassurance to folks that their data is still in our office downstairs," he said
The state will be sending out pre-paid mailers for all those who received a defective 1099-G in order to send it back.
Copyright 2021 WCAX. All rights reserved.