Catamount Corner - September 25, 2023
A soccer student-manager earning a full-time roster spot, one-on-one with a UVM hockey record-holder, hockey previews and basketball schedule breakdowns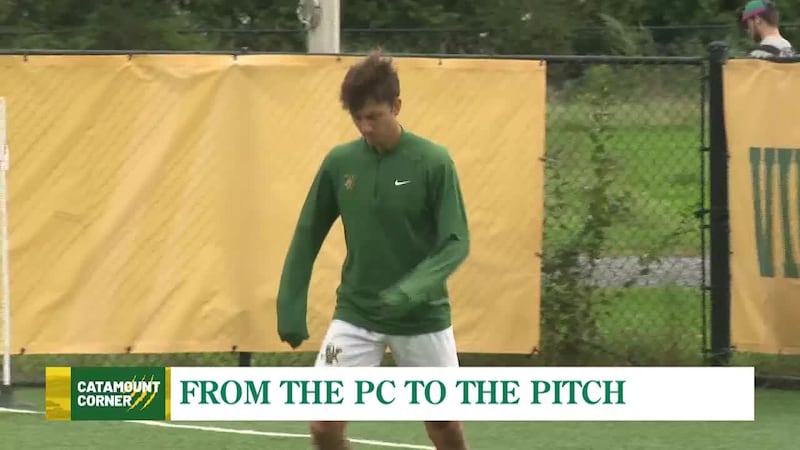 Published: Sep. 25, 2023 at 7:23 PM EDT
BURLINGTON, Vt. (WCAX) - Welcome to Catamount Corner, where each month we catch up with UVM coaches and student-athletes and tell the biggest stories of the month.
In today's show, we meet a men's soccer student-manager who recently earned a full-time roster spot. Then, we catch up with the women's soccer and field hockey teams as they look ahead to crucial conference games. From there, we preview the men's and women's hockey seasons, break down the basketball schedules, and go one-on-one with women's hockey goalie Jessie McPherson - literally. She recalls the moment she set the program's all-time wins record, tells us how she got started as a goalie at age seven, and Michael lines up against her to try and score.
Check out all the stories below, or the full show at the bottom of this page.
Tucker Paron has long dreamt of the chance to play college soccer. After spending three seasons as a student-manager for the UVM men's team, he was rewarded with a spot on the active roster.
Women's soccer and field hockey each defended home turf this past week, setting the stage for their upcoming stretch of conference play.
The women's hockey team welcomes in eight newcomers, eager to keep building off the best two-year stretch in program history.
After an offseason of upheaval for the men's hockey program, Steve Wielder enters his first year as head coach with sights set firmly on the future.
Just days away is the first meet for the women's swimming and diving team, opening up the season at home.
It might not be basketball season yet, but with the full schedules out, it sure feels awfully close. Michael and Jack break down their top three takeaways from each slate.
And finally, Michael goes one-on-one with Jessie McPherson, as we hear from the all-time wins leader about setting the record, her start as a goalie at age seven, and Michael tries to score a goal on her. Warning: it doesn't go well!
The full show is below.
Copyright 2023 WCAX. All rights reserved.