Catamount Corner - October 24, 2023
Basketball season previews, the bond connecting three cross country runners, a game of C-A-T with two basketball sharpshooters, and a whole lot more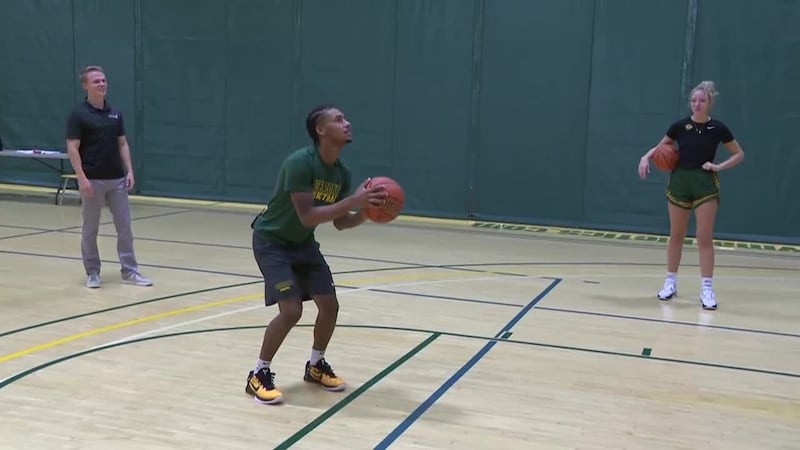 Published: Oct. 24, 2023 at 6:50 PM EDT
BURLINGTON, Vt. (WCAX) - Welcome to Catamount Corner, where each month we catch up with UVM coaches and student-athletes and tell the biggest stories of the month.
In today's show, we preview the upcoming basketball seasons for the UVM men's and women's teams as we sit down with John Becker, Alisa Kresge and stars from both squads. From there, we introduce you to three UVM cross country runners who are all connected by a unique bond. Then, we catch up with fall sports teams gearing up for postseason runs, sit down with men's lacrosse coach Chris Feifs to talk about his contract extension, and then Michael and Jack get to know Delaney Richason and Aaron Deloney, before playing a game of C-A-T that came down to the wire.
Check out all the stories below, or the full show at the bottom of this page.
Fresh off another conference title, the UVM men's basketball team is re-tooling with plenty of new faces, but the same goal at the end of the year.
After claiming a conference crown of their own, the women's team may look familiar with plenty of the same faces back, but they're entering this season with a little bit of an underdog mentality.
Both soccer teams and the field hockey team are hoping for playoff runs, as the regular seasons for each near the end.
Three UVM cross country runners all share a passion for the sport, but they're connected through something off the paths: they're all Eagle Scouts.
We sat down with men's lacrosse coach Chris Feifs after he signed his recent contract extension.
Only a couple contests into the season, a few hockey players have enjoyed strong starts to the year.
After getting to know basketball stars Delaney Richason and Aaron Deloney, Michael and Delaney team up to face Jack and Aaron in a game of C-A-T. And it came down to the wire!
The full show is below.
Copyright 2023 WCAX. All rights reserved.