Orleans man sentenced to 30 years for wife's 2018 murder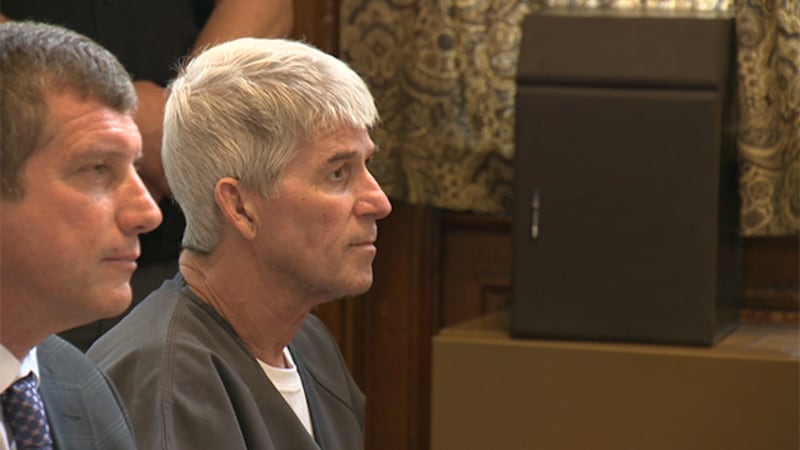 Published: Nov. 17, 2023 at 5:44 PM EST
NEWPORT, Vt. (WCAX) - A judge in Newport Friday sentenced an Orleans man to serve 30 years to life for the 2018 murder of his wife.
Randall Swartz, 63, pleaded guilty back in February to fatally shooting his wife, Thea Swartz, in the chest at their home. Police say he then shot himself in the torso but survived. Swartz was originally charged with first-degree murder but pleaded guilty earlier this year to second-degree murder.
Speaking Friday, on the second day of his sentencing hearing, Swartz expressed remorse and asked his family for forgiveness. "I am responsible for what happened and I am right to be sentenced for it. I hope that someday, there may be forgiveness," he said.
"There is no amount of years of incarceration that will satisfy the years that Randall stole from his children, from Thea's parents. He should be incarcerated for life. He should never be able to walk free," Orleans County State's Attorney Farzana Leyva told the court. She had asked for a sentence of 50 years to life, referring to testimony Thursday where Swartz's daughter and those who knew his wife said he was "manipulative and abusive."
In his counter-argument, defense attorney Robert Sussman argued for a lesser sentence, citing Swartz's age, lack of prior convictions, and substance abuse disorder. "We're not asking for the court to just cut him loose right now. We're not asking for time served. We are asking for a sentence where he would remain in jail for a period of time and then after would have a sentence hovering over him, so that if he were to do anything, if he were to step out of line at all, he would be brought right back in," Sussman said.
In arriving at the sentence, Superior Court Judge Lisa Warren, said Swartz's conduct indicates a need for treatment for domestic violence and alcohol use, but that he needs to be held responsible. "No sentence will be representative of the value of Thea Swartz's life, to her children, and to her aging parents. The court acknowledges their desire to see the defendant put away for life, though even that will not provide them with closure," she said.
The sentence will run concurrent to the time Swartz is already serving for federal mail fraud charges.
Related Stories:
Orleans man to be sentenced for wife's 2018 murder
Orleans man pleads guilty to murdering his wife
Lawyer for man accused of killing wife wants trial moved
Suspect in wife's death sentenced in federal mail fraud case
Swartz pleads guilty to mail fraud charges at former job
Orleans man pleads not guilty to 1st-degree murder in wife's death
Judge denies bail for Orleans man accused of shooting wife
Orleans murder suspect arraigned on federal mail fraud charges
Accused killer now faces federal fraud charges
Orleans man pleads not guilty to wife's murder
Orleans murder suspect released from hospital
Police: Orleans victim died of gunshot to chest
Orleans man accused of killing wife
Copyright 2023 WCAX. All rights reserved.