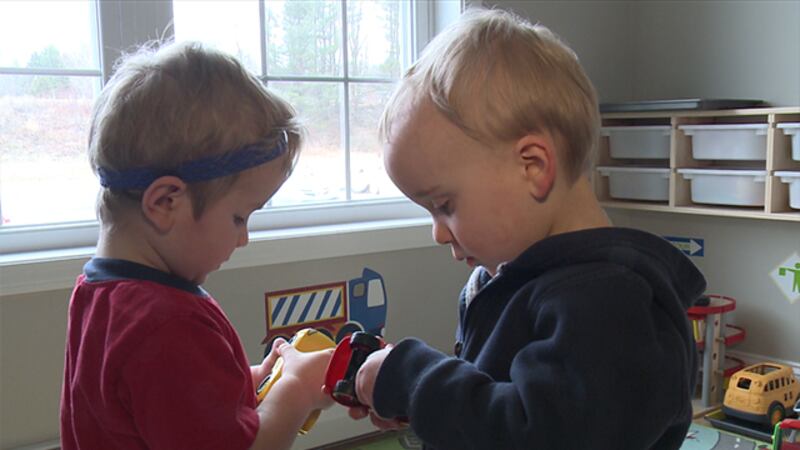 Published: May. 14, 2018 at 3:00 PM EDT
Sunday marked the start of severe allergy awareness week. According to Food Allergy Research and Education, about 15 million Americans have food allergies. That includes 5.9 million children under the age of 18. That's 1 in 13 children or roughly two in every classroom. And finding a preschool classroom can be a daunting task for a family who has a toddler with severe allergies.
Ollie Jefferis is pretty talkative for a soon-to-be 3-year-old. And if you ask him, he'll tell you one of his favorite parts of the day is snack time. But for Ollie, snack time or any other meal can be a little tricky.
"He had his first major reaction at 11 months old and ended up with full body hives," mom Abbie Jefferis said.
Ollie has anaphylactic reactions to peanut, tree nut, sunflower, sesame, milk, egg and all legumes except soy. Anaphylaxis is when the immune system releases chemicals that flood the body leading to potentially life-threatening reactions.
"In a matter of minutes to just watch him swell, struggle to breathe and all that is terrifying," Abbie said.
It's not just eating these foods that can cause problems for Ollie. Just being in contact with any of the items can result in a reaction. Once he got a reaction just from being around dog food.
"Twenty to thirty years ago this existed but it was not nearly as common and the reason is not clear. It's subject to much investigation and research," Dr. Edward Kent said.
Kent is one of two doctors at the UVM Health Network who specializes in allergy and immunology.
"We'll see several patients a day with new onset of food allergy and the vast majority of those people are infants and toddlers and school age," Kent said.
Ollie is approaching school age. In fact, next year he'll be heading to preschool, but finding the right place has been a challenge.
"One place called Ollie a bubble boy and it took everything for me to not just turn around and walk out there," Abbie said.
Keeping everything from toys to surfaces clean and the food contained are two major ways to keep children with severe food allergies safe.
"For every classroom has an allergy and asthma alert envelope," said Brittany Caruso who works at Nadeau's Playschool in Williston.
Nadeau's is one preschool going above and beyond for toddlers with severe allergies. At one time, the school had three children who required an EpiPen on site.
"We all have some training in, of course, first aid," Caruso said. "But then we also take a six-hour medication administration class as well, so that goes a lot more in depth for both asthma and allergy on how to recognize symptoms and then what to do it to take action."
Nadeau's went peanut-free a year and a half ago. It has an egg-free classroom. There are no group snacks; food comes from home and the labels are carefully looked at by the staff.
"We're very well versed now as staff members that we're really careful on being able to recognize things that aren't safe and then sending that home with a note, just kind of an FYI this contains peanuts or eggs, something along those lines," Caruso said.
Abbie Jefferis is trying to do her part to educate the public on severe allergies.
"Food allergies are rising more and more and more and people need to know about it," she said. "Ultimately, even at some of the places where it didn't go well, I think you just see a lack of education and awareness and just making sure people are willing to learn and willing to have a conversation."
FARE says allergies to milk, egg, wheat and soy often resolve in childhood, but children appear to be outgrowing some of these allergies more slowly than in previous decades, with many children still allergic beyond age 5. Allergies to peanuts, tree nuts, fish and shellfish are generally lifelong.