Artists add a splash of color to Plattsburgh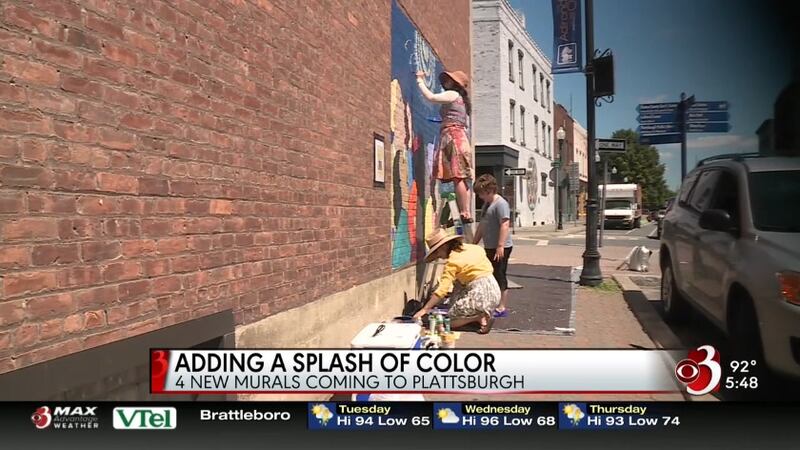 Published: Jul. 3, 2018 at 4:05 PM EDT
Taking a stroll through the city of Plattsburgh you notice the people, the places and-- right now-- the heat.
"This weather could be over in a blink of an eye. It is literally the perfect drying weather," artist Leslie Cosgrove said.
And if you've traveled down Durkee Street, you might have noticed a mural going up.
"It's actually really cool. I never see people paint on rooftops or buildings," said Megean Garrant, who stopped to take a look.
The two artists are part of Outside Art: Plattsburgh Public Art Project. They were inspired by artist S. Booker.
"His passing left a huge hole in the community and the art community, as well. I wanted to memorialize his memory as well as his beautiful work," Cosgrove said.
Ashley Furniture offered up their wall space. The organization applied for a $5,000 county grant to pay for supplies and community members also donated money. Those who did had a piece of them incorporated into the mural like little Mr. Miles painted right onto the brick.
"You know, it gives the town a sense of pride," said Amy Guglielmo of Outside Art: Plattsburgh Public Art Project. "It makes things colorful, it makes people driving through town stop and say, 'What's going on?'"
This is just one of four new murals coming to the city this summer.
"It is nice to see people go by, honk us and shout out there comments," Cosgrove said.
And it shows with how many people stopped in just one hour.
"I wanted to say congratulations to them because it's so pretty," Kayla Garrant said.
"I thought it was really beautiful because it has like different colors," Megean Garrant said.
"Well, first of all, one of the reasons I'm doing it is because one of the painters is my mom," said Gabriel Golan, the artist's son.
Bringing the community and families together.
"I still think she is doing a great job," Golan said.
Outside Art says their next project will be a Champy mural by the Naked Turtle. They hope to start painting in a few weeks.