Burlington city councilors react to del Pozo resignation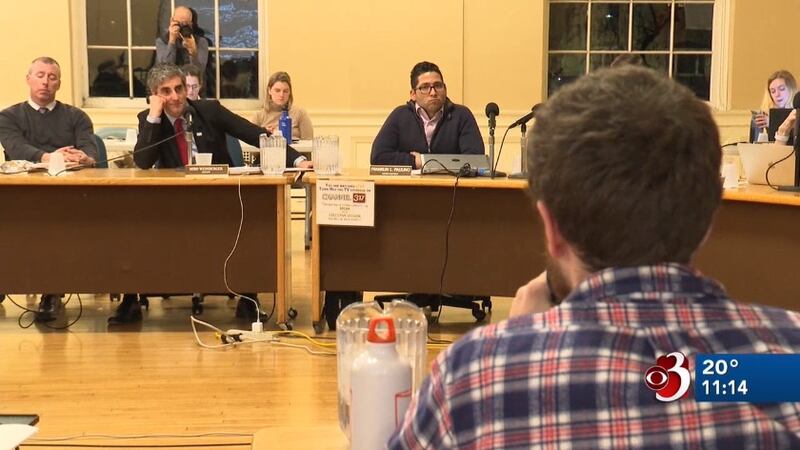 Published: Dec. 16, 2019 at 5:40 PM EST
Mayor Miro Weinberger faced the Burlington City Council Monday night to answer questions about the way he handled now-former police chief Brandon del Pozo's medical leave.
Weinberger had del Pozo go on medical leave to seek mental health treatment this summer after del Pozo confessed to him that he had created an anonymous Twitter account to taunt a critic.
Councilors tell WCAX News Weinberger did not inform them of the situation until Thursday when local media broke the news. Some councilors say they were disturbed by the lack of transparency and they wonder if Weinberger would have ever told them if the story never got out.
"Would you do anything differently in terms of informing either this body or the police commission of this rather than waiting until the media brought it to light?" Jack Hanson, P-Burlington City Council, asked the mayor.
Weinberger defended his actions and said he received guidance from employment professionals and did not disclose any details about the chief's circumstance because it involved personal health information.
"People can second guess now and disagree but this was a personnel matter," Weinberger said. "We decided to treat the chief in this respect as any other employee and we do not as a matter of practice when we have a medical situation share that employee's information."
Councilors accused the mayor of failing to fulfill his statutory obligations to report unprofessional conduct.
City Attorney Eileen Blackwood came to the mayor's defense.
"I do not believe there was any conduct in this case that fell in any of the categories that required reporting. So there was nothing to report here," Blackwood said.
Weinberger stood by his actions but offered an apology to the council and to the city.
Charles Winkleman, who was on the receiving end of del Pozo's anonymous tweets, told Weinberger he does not accept his apology.
"Mayor Weinberger, I do not accept your apology, and I will not accept your apology until you resign," Winkleman said.
WCAX News spoke to some of the councilors after the meeting and they said they feel the mayor still could have done more to inform them while still protecting the chief's personal information.
We also tried to speak with Weinberger on his way out of the meeting but he declined to comment saying he had answered enough questions for the day.
Earlier in the day, Burlington city councilors had mixed reaction to the resignation of del Pozo.
When word came out that del Pozo created a fake Twitter account to troll a critic and then lied about it, some councilors called on del Pozo to step down. Others were willing to give him a second chance.
City Council President Kurt Wright called it a sad day for Burlington and said he is sad to see del Pozo go. He said he understands del Pozo broke the public's trust but said he was willing to give him a second chance as long as he was transparent and forthcoming with the council and the public.
Wright also said it's important to take into account the brain injury the chief sustained last year.
"So I don't think that's an excuse. I think it's just trying to understand why the chief may have made this critical mistake. But I think it's sad that basically an hour out of his life and including the time that he talked to the reporter when he compounded the error results in him leaving the police force after a number of years of good service to the city. I think it's a sad day for Burlington and the chief and all the way around," Wright said Wright.
While del Pozo may be out, there are still questions about Mayor Miro Weinberger's handling of the situation. Some city councilors say they are disappointed the mayor did not fill them in. And some citizens are accusing Weinberger of a cover-up.
"I think the mayor is going to have to continue to answer questions about that, including from the council. Certainly, if I was asked, I would, with caution, share the information as soon as you can, share it with the council, the police commission and with the public," Wright said.
"It's hard to navigate, so I think that we can all second guess what the actions were that he took. I think that it deserves more review on our part to understand what the parameters were, what advice he was getting from HR, and from the city attorney were because we have not had the benefit of that yet," said Joan Shannon, D-South District.