Cinnamon Raisin's lasting legacy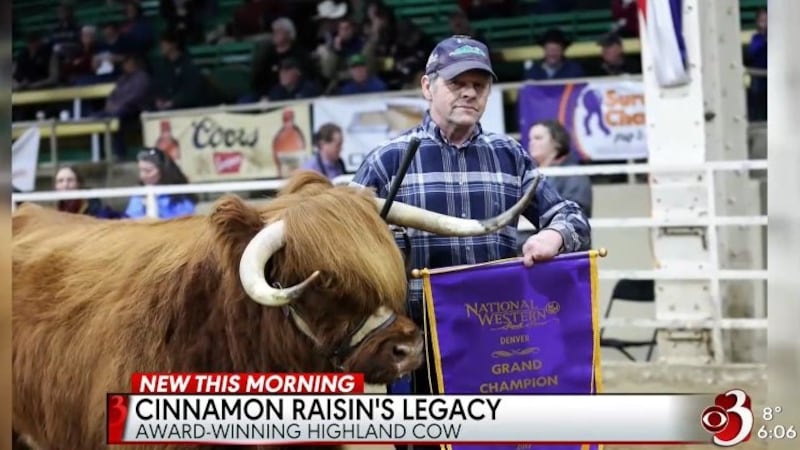 Published: Dec. 26, 2018 at 7:52 AM EST
Shat Acres Farm has been raising highland cows for decades. They have the oldest herd of highland cattle in the United States.
But earlier this year, the farm said goodbye to their most-prized cow.
We first met Cinnamon Raisin back in 2011 when she was fresh off of her first win at the Denver championships, the biggest competition for Highland cows in the world.
In her life, Raisin won more than a dozen grand championships and several supreme championships. Supreme is being the best of all the breeds in the competition.
Janet Steward and her husband, Ray Shatney, have been raising Highland cows for decades. This year they said goodbye to Cinnamon Raisin.
"Raisin was my friend," said Steward.
Raisin was the grand champion three times for two consecutive years and the only one to win with twin calves. She's also the only cow to have a daughter be a grand champion.
She gave birth to 10 calves, nine of which are grand champions, the tenth is still too young to compete.
"That's pretty amazing. Not only was she spectacular, she was able to pass her genetics and her temperament on," said Steward.
Raisin is described as trustworthy with horns that spanned 48 inches.
"She could pick a fly off of her back with her horns but she would never use them against people," said Steward.
Her health started to decline in September 2017 when she slipped getting out of the trailer in York, Pennsylvania. This year, the cold weather came early and Raisin's health only got worse.
It was a tough decision, but the family agreed to put her down. Her last day was filled with joy and Steward finds comfort in remembering Raisin's legacy.
"Sometimes when I can't sleep or I'm worried about something, I try to think about happy thoughts, those happy thoughts are when the judge says this is my grand champion this is my cow this is a special cow," said Steward.