Bourgoin guilty on 5 counts of murder in wrong-way crash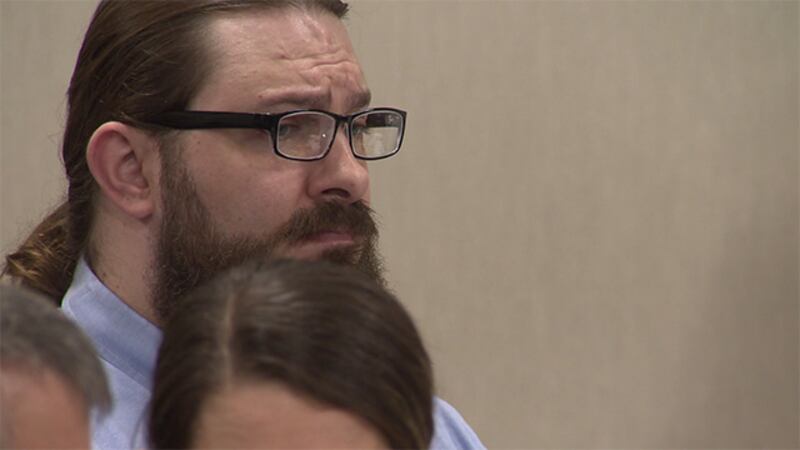 Published: May. 22, 2019 at 12:01 PM EDT
A jury has found Steven Bourgoin, 38, guilty of second-degree murder on all counts in the 2016 wrong-way crash that killed five Mad River Valley teens.
After closing arguments were delivered Monday, it took the 12-member jury about 11 hours to come back with a verdict for seven crimes, including five counts of second-degree murder.
On the night of Oct. 8, 2016, police say Bourgoin drove the wrong way on I-89 in Williston, crashing his pickup into a car full of teens returning from a concert. They say he then jumped in a police cruiser, drove a short distance, turned around and crashed into eight more cars. Mary Harris, Liam Hale, Cyrus Zschau, Eli Brookens and Janie Cozzi died when the Jetta they were in was hit head-on by Bourgoin's truck.
The trial and deliberations lasted 13 days and families of the teens were there throughout, forced at times to listen to graphic testimony.
"I'm so thankful for the families and their bravery and their courage to come here every day and listen to this evidence and to have gone through two-and-a-half years waiting for this day. I really could not ask for a better outcome," said Chittenden County State's Attorney Sarah George.
"We're disappointed in the verdict. We respect the verdict but we're disappointed. Obviously, we think we presented the overwhelming medical evidence with regard to the sanity issue and we're disappointed that the jury found otherwise," said Bob Katims, Bourgoin's lawyer.
The defense indicates it plans to appeal the case, citing a mistrial issue that was denied during the second week of the trial. Now, the case heads toward the sentencing phase where the families of the victims will also be involved.
FAMILY MEMBERS REACT TO VERDICT
It took two-and-a-half years, 13 days of trial, and two days of jury deliberations. They did not know what verdict the jury would come to, and Wednesday afternoon the families of Mary Harris, Liam Hale, Cyrus Zschau, Eli Brookins, and Janie Cozzi got five verdicts of justice for their murdered children.
"I'm relieved to put this part of this tragedy behind us so I can move beyond focusing on my son Eli's death and focus on his life and the beautiful person that he was," said Colleen Ovelman, Eli's mother.
"I'm relieved that this phase of the process is complete," said Sue Hale, Liam's mother. "At this time, we would ask you to refocus the energy toward the young people whose lives were needlessly and tragically taken from us and them."
Asking people that the trial is now over, to re-focus on what the young lives could have been.
"We would like it to be about the kids now and no more about Steven Bourgoin. They're beautiful kids, said Sarah Zschau, Cyrus' mother.
Elizabeth Harris, Mary's mom, read a poem on kindness, written by her daughter prior to the crash that took her life. "I believe it is nice to be important, but it is more important to be nice," she said. "So I ask you to be kind. Be compassionate, be respectful, be selfless. Because without kindness, what is the point? That was Mary. That's how she lived. And that's how we want her to be remembered. And Janie was the same."
Chris Zschau added that it's now time for them to move forward with the rest of their lives, too. "Now we're going to watch our other boy, Charlie, play ball," he said.
All of the families expressed their thanks to the Vermont communities that have supported them through the past two-and-a-half years, saying they are grateful for everyone who stepped up during these difficult times.
LEGAL ANALYST WEIGHS IN ON VERDICT
As all parties involved prepare for what's ahead, we asked our legal analyst Jerry O'Neill for his take on the verdict.
O'Neill says he was surprised since he thought a compromise verdict like involuntary manslaughter was likely; however, he didn't think Bourgoin was walking out of that courtroom a free man.
"I wasn't surprised. It's so hard for jurors in a situation where five kids have died to say that someone was insane at the time. I'm sure they did a conscientious job and arrived at what they believed to be the right verdict, but it's really challenging when you have such horrific deaths as occurred in that case," O'Neill said.
The case now moves toward sentencing. Bourgoin could face 20 years to life in prison. And because the defense plans to appeal, O'Neill says it's likely the legal battle will continue for the next year and a half or so.