Driver charged with homicide in crash that killed motorcyclists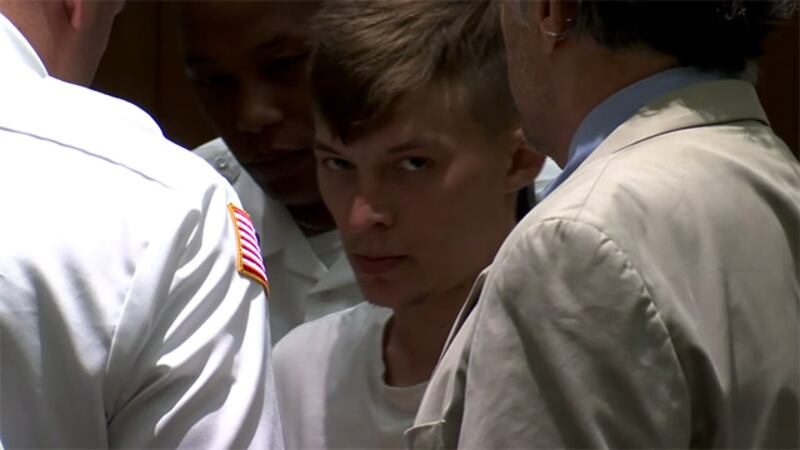 Published: Jun. 24, 2019 at 12:22 PM EDT
An arrest Monday in what New Hampshire State Police are calling the deadliest highway crash in state history.
Police say Friday night, in Randolph, New Hampshire, a pickup truck towing a flatbed trailer collided with a group of motorcycles, hitting 10 and killing seven. The victims were all part of a motorcycle club.
Monday, the driver who police say crashed into them, Volodymyr Zhukovskyy, 23, was arrested at his home in West Springfield, Massachusetts. He is being charged with seven counts of negligent homicide.
But first, he had to face a fugitive from justice charge in order to get him back to New Hampshire. He pleaded not guilty to that charge, which was basically just a formality. He wasn't on the run and his attorney told reporters his client planned to return to New Hampshire.
During his arraignment Monday, Zhukovskyy waived extradition and was taken into custody by New Hampshire Police. He will face the negligent homicide charges Tuesday.
"It's tragic for the families involved, it's tragic for the victims and it's tragic for his family, too. And I'm not trying to equate that they're all the same, I'm making no such suggestion. But I'm hoping that everyone would be respectful toward the people who died in this case, and respectful for what he has to go through, too. Justice will be meted out. Justice will be served, I'm sure, in New Hampshire," said Donald Frank, Zhukovskyy's lawyer.
And we are learning more about Zhukovskyy and his past. Records show he was arrested for drunken driving last month and in 2013.
Connecticut court records show Zhukovskyy was stopped by police in East Windsor, Connecticut, on May 11 in a parking lot and charged with driving under the influence of alcohol or drugs. His lawyer says Zhukovskyy denies the charges.
Massachusetts Registry of Motor Vehicles records show he had his license suspended shortly after a 2013 arrest in Westfield, Massachusetts, because he was deemed an "immediate threat." The Westfield News reported in 2014 that Zhukovskyy was placed on probation for one year and had his license suspended for 210 days in that case.
Massachusetts troopers say when they arrested Zhukovskyy Monday, they found suspected heroin. It will be tested and if it is heroin, he will likely face additional charges.
Zhukovskyy is expected to be back in court in New Hampshire Tuesday to answer to those seven counts of negligent homicide. A court spokesperson says Zhukovskyy is scheduled to appear via video conference at his arraignment in at Coos County Superior Court in Lancaster, New Hampshire. The charges have not been filed with the court, nor has a bail order been filed.
Zhukovskyy is charged in the deaths of Aaron Perry, 45, Desma Oakes, 42, Joanne and Edward Corr, both 58, Albert Mazza, 59, Michael Ferazzi, 62, and Daniel Pereira, 58. The victims were from Rhode Island, Massachusetts and southern New Hampshire.
Officials say the victims were all members of the Marine Jarheads, a motorcycle club that includes marines and their spouses.
New Hampshire Gov. Chris Sununu ordered flags to half-staff Monday in their memory.
We don't know if the motorcyclists who died were wearing helmets, but it's not required in New Hampshire.
WCAX News asked Gov. Sununu if this crash will drive him to push for a change in the no helmet law.
"The no helmet issue has been an issue that the state has been dealing with and it's something that the people of the state have agreed upon and we don't see any movement on that coming forward," said Sununu, R-New Hampshire.