Exclusive: Inside the USS Vermont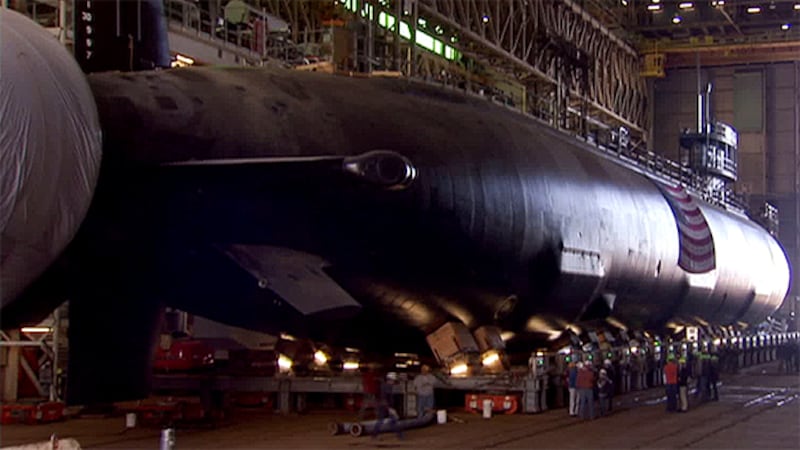 Published: Oct. 30, 2018 at 3:20 PM EDT
You can't help but notice the seemingly nonstop trains and boat traffic in the coastal community of New London and Groton, Connecticut. But what you won't see is tucked inside a highly guarded building on the Thames River... until now.
"This is a once-in-a-lifetime opportunity," said MMAC Jacob Newsome of the U.S. Navy.
It's the United States' most-advanced attack submarine being built by General Dynamics Electric Boat. It's fast, quiet and nearly invisible underwater-- undetectable to the nation's adversaries. It's technology that's so top secret, WCAX News is the only media allowed to see it and take you inside.
This is what will be the USS Vermont.
"The human eyeball is our greatest threat in some cases," said Cmdr. Henry Roenke of the U.S. Navy.
Roenke will command the sub.
"We can conduct anti-submarine warfare, anti-surface warfare, if necessary, mine warfare. We can support special operation forces ashore if required. We can conduct intelligence surveillance reconnaissance, looking around, see what we can see and then reporting that back," Roenke explained.
The Vermont is 377-feet long, longer than a football field, and 34 feet in diameter. And it comes with a nearly $3 billion price tag. Sounds big, right? It is. But with 135 crew members living on it, sometimes for three months underwater, it's tight.
"The biggest challenge living on a submarine is probably space," said YN2 Jahlaani Campbell of the U.S. Navy.
"This is a bunkroom. We have a lot of space, right?" joked MMA1 Todd Lewis of the U.S. Navy.
There are not enough beds for everyone, so many submariners must alternate sleep times. It's called hot racking; the bed still warm from the last guy when you climb in.
"You have to be used to getting close to people," laughed Lt. Austin Thompson of the U.S. Navy.
The boat is designed to utilize every inch of space and most spaces have dual roles. The vessel's meeting room for administrators is also their dining room and surgical table if need be.
What we can't show you is what makes this nuclear-powered sub the Navy's best of the best. An entourage of top officials from Electric Boat and the military covered up sensitive equipment that could be stolen by adversaries, fiercely protective of state-of-the-art hardware and software they didn't want on video.
This is an extremely rare look inside a submarine. In fact, we can't show you most of it for security reasons. But we can show you the control center, basically the brains behind the boat. The pilot and co-pilot will sit here. But this is it, the end of the line. We can't show you what's behind the camera because that's off limits. The sub's missions-- what it will do and where-- are also top secret. Officials won't say. But the USS Vermont will be capable of launching an attack with torpedoes, missiles and payload tubes, allowing greater firepower while hidden by the sea. It will deploy an estimated 15 times over the next 33 years.
"If in combat, this is where the orders are given, this is where we would execute as necessary," Thompson said.
A maze of pipes, tubes and wires right now. But the USS Vermont will eventually play a vital role in national security. And being on its maiden voyage is special for submariners. The first crew members become so-called plank owners. Their names are put on a plaque inside the sub.
"That's one of the reasons I came here," Lewis said. "How many opportunities to be a plank owner, the first crew of a ship?"
It's why Lewis volunteered on the Vermont. In fact, all submariners must volunteer. Training is rigorous, very difficult. And family and friends won't hear from them for sometimes months at a time. Once underwater, there's no contact. Communication is restricted to military missions by just a few on board.
"What it does is build that trust between every crew member who goes through that process," Lewis explained. "There's no other feeling in the world that thrill and excitement that you train for that you are ready for."
ETR3 Ian Blackmore of Danville will also be a plank owner on the USS Vermont.
"I'm just proud that I'm representing Vermont on it," Blackmore said.
The Northeast Kingdom native is currently on another sub and just surfaced, though we can't say where. We talked by phone about what it means to be part of the first crew on a sub with his state's namesake.
"It will be kind of neat because my name is always going to be there, regardless of where I go," Blackmore said. "I'm just proud and happy that they've named a sub after Vermont."
The rest of the crew members come from all over the U.S. but adopted the Green Mountains.
"We have absolutely loved being able to call ourselves Vermonters," Newsome said.
Newsome is one of the sub's pilots. He compares riding in a submarine to riding in a plane with sometimes heavy banks.
"The floor kind of shifts as we change depths," he said.
He says the first dive is always the best dive.
Reporter Darren Perron: What's it like as a submariner to take that maiden voyage on what will be the USS Vermont?
MMAC Jacob Newsome: When we first say dive, dive, dive and we go under, you want to scream it from the rooftops. But at the same time, we have a mission and plenty of testing but it's an amazing feeling. In one way, it's like playing a video game but the floor starts moving and you start turning around and it's quite a thrill to know you're moving 377 feet of American made steel.
Construction on the Vermont began in 2014 and soon she'll be ready to dive. So, a christening ceremony was just held at Electric Boat with a sparkling apple wine from Putney called Northern Spy.
The Navy's former deputy assistant secretary rallied the men who will call the USS Vermont home, the state's motto now theirs, too.
"Freedom!"
"Unity!"
"Freedom!"
"Unity!"
"Freedom!"
"Unity!"
"Who are we?"
"Vermont!"
The USS Vermont will undergo months of underwater testing before it's commissioned and ready for duty. That is expected to happen in the spring of 2020.