Police: Retiree made ricin, tested poison on neighbors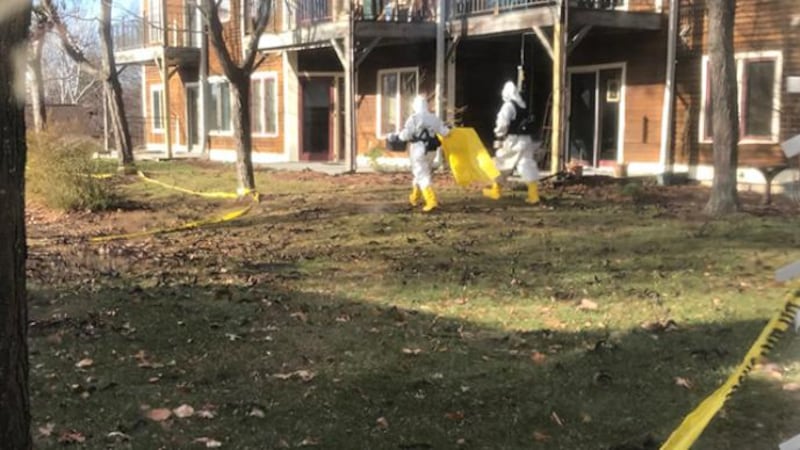 Published: Dec. 1, 2017 at 10:34 AM EST
An arrest in connection with a deadly poison scare at a Shelburne retirement community. The poison in question? Ricin, a toxin that can be extracted from a common garden plant.
The suspect is Betty Miller, 70, a resident of the Wake Robin retirement community. Our cameras are not allowed in federal court but our Jennifer Costa was there Friday as Miller was brought in handcuffed for her initial appearance. She's charged with possession of a biological weapon.
For days, the grounds of Wake Robin have been overrun with state and federal authorities. An investigation that required hazmat suits following the discovery of a deadly poison inside an apartment at this upscale retirement community.
Federal court papers unsealed Friday outline disturbing details. They allege Betty Miller was plotting to hurt herself with homemade ricin, but she's accused of testing the poison's power on her neighbors for weeks.
The FBI says they found a pill bottle half full in Miller's kitchen labeled ricin, as well as other critical ingredients and a printout on how to make the toxic substance.
Miller told investigators she researched ricin for months before harvesting 30-40 castor beans from plants growing on Wake Robin's property. She's accused of using the beans to make ricin multiple times. The feds say on at least three occasions, Miller put the deadly powder in other residents' food and drinks to see what would happen.
The health commissioner tells us one individual became ill with symptoms compatible with ricin ingestion last weekend. The individual is now well.
We know that Miller must have had some concern about her own exposure to the toxin because, on Monday, she drove herself to the hospital to get checked out. She allegedly told health care professionals about what she's been up to.
Police and health officials questioned her at the hospital the following night. They have since gotten warrants to search her car and apartment.
We know very little about Miller. But the federal judge did reference a lengthy mental health history during Friday's brief court appearance.
The federal prosecutor says Miller carefully planned her crime and fears she will threaten witnesses. So she wants Miller behind bars as the investigation continues.
Miller remains in the custody of U.S. Marshals. She will return to court Wednesday for a probable cause and detention hearing.
WAKE ROBIN RELEASES STATEMENT
For days, we have asked to speak to leaders of the senior living community but they have not granted any interviews.
Late Friday afternoon, Wake Robin President & CEO Patrick McKee put out a statement, which reads in part, "The resident of the apartment in question is now involved with the criminal justice system and will not be returning to Wake Robin." And, "We will continue to maintain our community's safety and protect their privacy through this time."
JUST HOW DANGEROUS IS RICIN?
Our Dom Amato spoke with the Vermont Health Department to learn more about the toxin.
The health department couldn't say how much ricin it takes to sicken someone because there are so few incidents of ricin poisoning.
"I've never seen this in my entire clinical career," said Dr. Mark Levine, the Vermont health commissioner.
Levine says he, other Vermont health officials, and the Centers for Disease Control and Prevention, don't have adequate information on ricin.
"It's devious and effective," said David Barrington, a professor at the University of Vermont.
Ricin comes from the castor bean plant. Barrington studies plant biology. He says castor bean plants are common in Vermont gardens.
"It's popular because it grows fast, it's big, it's showy and it's different looking," Barrington said.
It is not native to Vermont. It grows in warm climates and is part of a family of other toxic plants.
"If you go to a frost-free zone, castor bean is as weedy as ragweed, you see it everywhere," Barrington said.
But the ground up bean can be deadly.
"It could be sprinkled on something and you might get no symptoms or a little nausea, or it could be embedded in something you don't realize and you get a huge whopping dose," Levine said.
Levine says if someone was exposed to the toxin, they would feel symptoms within 4-10 hours.
"If you ingest it in food or liquid, you actually get gastrointestinal symptoms, like you might expect, nausea, vomiting diarrhea," Levine said.
Court paperwork says that Miller sprinkled ricin on food and/or drinks at Wake Robin. So then why did no one get sick?
"Doesn't mean they didn't ingest it," Levine said. "It just wasn't at a level sufficient enough to cause problems."
Levine says it's all guesswork. But, if no residents or staff have shown symptoms yet, they should all be in the clear.
Levine said that he did speak with almost every resident and worker at Wake Robin Wednesday to reassure them they were safe.