Farm helps new Americans adjust to new life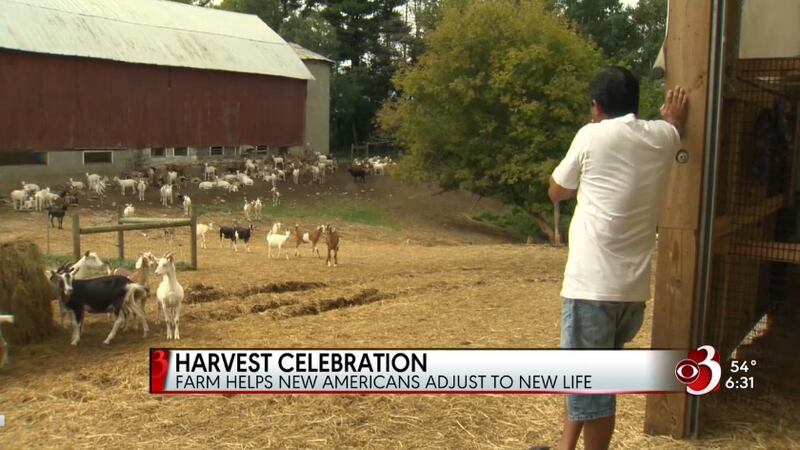 Published: Sep. 8, 2018 at 8:58 AM EDT
New Americans have been harvesting and rearing farm animals at Pine Island Community Farm for about 6 years now.
Saturday, they're sharing their produce and culture with a free harvest celebration.
New Americans are doing more than just providing food for themselves. They are building a community.
Goat farmer Chuda Dhuarali has been working on at the Pine Island Community Farm for five years.
"This is the land of opportunity," Dhuarali said.
His family convinced him to become a goat farmer when it moved to the United States from Nepal. Dhuarali used to help his father selling goats in Bhutan, so he already knew the basics.
In many cultures, goat is served at weddings and other big occasions. The lack of fresh goat meat in this region, can make new Americans like Dhuarali homesick.
"Most of the people, they always say, 'We miss the goat meat, fresh goat meat," Dhuarali said.
"These are people coming from lands and countries where they had a connection to agriculture and and to the land. And when they came to the U-S, they gave up many things. One of the things that they gave up was that connection," Vermont Land Trust President Nick Richardson said.
Instead of traveling to buy goats in Boston or buying frozen meats, new Americans come to the farm.
There are more than 300 goats and 3,000 chickens on the farm. They need the variety. Dhuarali said different cultures prefer different types of animals for their dishes.
"They choose, all the family, 'this is the good one.' And then they bring them over to slaughter. They do most of the work themselves," Dhuarali said.
While they're at the farm, families are also learning about new cultures from one another and long time residents.
"There are still strong agricultural farm families who have been in Colchester for seven generations that are spread up and down this road. And they're bringing their tractors up and helping with plowing and tilling at the beginning of the year," Richardson said.
"We have a good relationship with the old farmers. They give a lot of different ideas," Dhuarali said.
The harvest gets started at 1 p.m. on Saturday. There is a goat roast planned.