Flooding relief drive in Swanton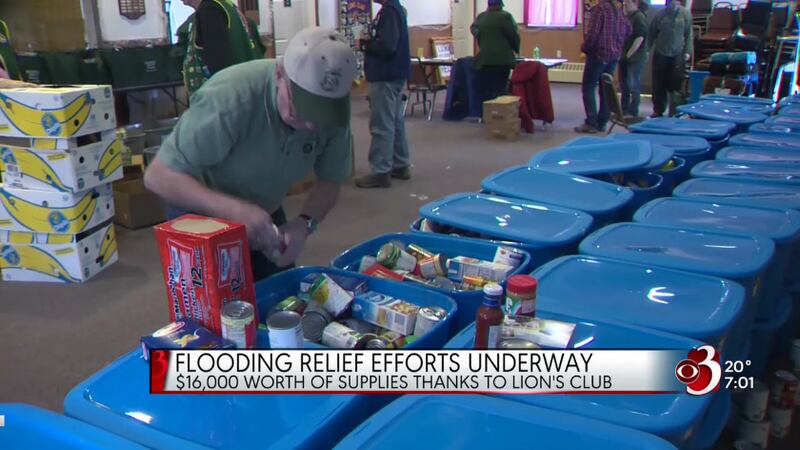 Published: Feb. 3, 2018 at 8:36 PM EST
Flooding relief efforts are ongoing in Swanton and Highgate.
"96 people were tentatively effected by the flooding. We're hoping to see at least half of that here to pick up their supplies," said Merry Souza of the Lion's Club.
Operation Flood Relief is underway. The Swanton-Missisquoi Valley Lions Club is holding the event this weekend.
"They have been very grateful very appreciative that our assistance is there," Souza said.
The club received $16,000 from the national organization, and used their own money, to buy supplies for victims of flooding last month.
"A box full of cleaning supplies that includes bleach, and the necessary cleaning supplies to help with the flood projects. They're also going to get food which has canned goods, cereals, and some necessary food to help with that, water," said Souza.
Ice jams on the Missisquoi caused significant flooding, forcing residents from their homes. While the waters have receded, many suffered damage to property and belongings. On Saturday, the Swanton VFW, donated its space to hand out needed supplies.
"This is a big deal it's very great that we grouped together as the Lions to get this much money to help with this assistance. It's really a goal of everybody, to work for the community," Souza said.
Organizers say only a few people showed up on Saturday and there is plenty of donations still available.
If you were affected by the flooding in the Swanton and Highgate area, and couldn't pick up any supplies on Saturday, the Lions Club will be open for residents to pick up donations 10AM-4PM on Sunday at the VFW in Swanton.