Groups hold demonstration against the F-35s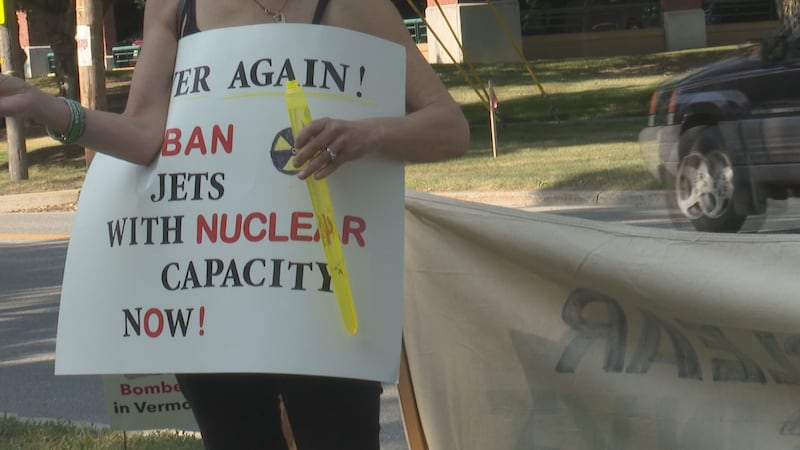 Published: Aug. 4, 2019 at 8:13 PM EDT
People against the F-35 fighter jets being based out of Burlington are ramping up their efforts to stop them just a few weeks ahead of their arrival.
More than 100 protesters gathered across the street from the Burlington International Airport on Sunday. The group addressed health, environmental and nuclear concerns regarding the F-35s.
Protesters are worried the jets carry toxins such as Perfluoroalkyl substances that will contaminate the air. Others said it would cost Burlington too much money to soundproof the homes near the airport to mitigate the noise of the jets flying over people's houses. They said that money can be better spent on infrastructure, schools and health care.
Their biggest concern is the potential for nuclear weapons to be flown in and out of Burlington.
"If indeed they someday carry the nuclear weapons, which we know they're saying they won't, truthfully we'll never know if they do because they'll never tell us, we are basically serving as a bulls-eye for a nuclear war," said Marguerite Adelman.
Protester Stan Hills agreed, saying he thinks Burlington will become a target for foreign enemies if nuclear weapons are held here.
"The Russians are going to target Burlington airport because that's where the delivery vehicles are. So, yeah, Burlington will become ground zero," Hills said.
Some veterans at the protest offered different insight. They told WCAX News the presence of nuclear-capable aircraft could deter foreign countries from striking this area.
Members of the Vermont Air National Guard say they understand protesters' concerns but believe people will warm up to the F-35s once they arrive.
"We worry about what our neighbors think of us. We worry about our influence on the community," said Lt. Col. Nate Graber. "I think once it's here a lot of those anxieties will be dispelled, will be relieved and we'll get back to flying fighters here in town and people will understand that this is another aircraft and that it's a great thing for the state of Vermont."
Graber says the noise, which is one of the protesters' top concerns, is comparable to the F-16s which used to fly at the airport and he doesn't think people will notice a major difference.
Protesters also called out Congressman Peter Welch and Sens. Patrick Leahy and Bernie Sanders for supporting the fighter jets.
"Bernie Sanders tells the country that he's against the military-industrial complex and he tells Vermont he wants to bring the F-35," said Hills. "We find that a huge contradiction and hypocritical and he should come clean to the country if he's going to support this."
When asked where they think the F-35s should go if they're not welcomed in Burlington, many protesters said they don't want them anywhere in the U.S.
The protest was hosted by the Women's International League for Peace and Freedom (WILPF Burlington Branch), Stop the F35s/Save our Skies, and Vermont Veterans for Peace, among others.
The first two of 20 aircraft are set to touch down at the Burlington International Airport this fall.