Gun magazines handed out in Montpelier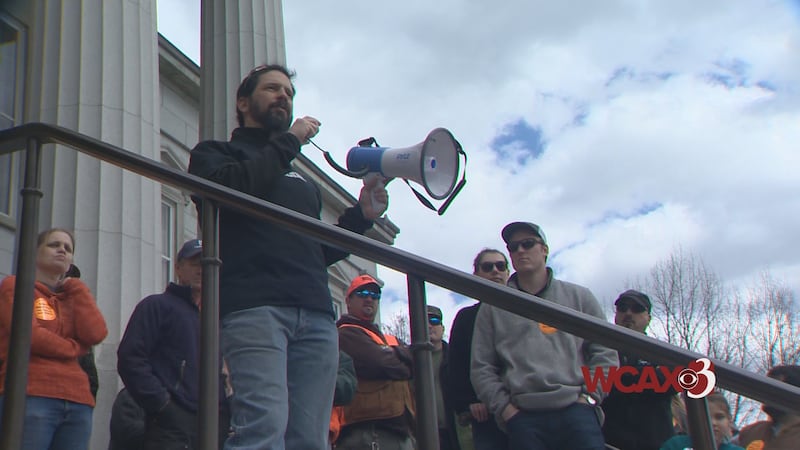 Published: Mar. 31, 2018 at 7:17 PM EDT
A strong message was sent to Governor Phil Scott from gun owners Saturday. More than 1,000 people gathered in Montpelier to voice their concerns over Vermont's highly debated gun bill.
Pro gun advocates came out to the State House Saturday to get a free 30-round rifle magazine and protest Vermont's future gun restrictions.
"It's really incredible to see so much support in the Green Mountain State for gun rights, I'm just overwhelmed," said Rob Curtis.
Curtis is the Executive Editor of Recoil Magazine, a firearms lifestyle magazine based in California. Curtis lives here in Vermont and wanted to raise awareness about Vermont's gun restrictions bill, S.55.
"My fear is that legislators will pass knee-jerk legislation without any depth, any meaning and it's really not going to make Vermont any safer," Curtis said.
He contacted firearm accessory producer Magpul Industries about S.55. The bill raises the legal gun purchasing age in Vermont to 21, expands background checks to private sales, bans bump stocks and sets limits on how many bullets magazines can hold. In response, Magpul overnight, shipped 1,200 30-round magazines to Vermont before the new law is signed.
"I'm all for protecting the kids, but I don't think this is the way to go about it," said Barry Wadle
Wadle and his wife have been at the State House all week advocating against new gun restrictions.
"I'm hoping this will wake up the silent majority of Vermonters and get them out to vote and protect their rights," Wadle said.
While mass shootings in the United States have sparked rallying cries from concerned citizens across the country, people at this rally fell on the side of the 2nd Amendment. That included UVM senior Cole Wangsness.
"I think there are ways we can solve Vermont's problems and I don't think this is the way to go about it," Wangsness said.
His family's safety is a reason he owns guns. He also enjoys hunting and target shooting.
"I just find it fun. Everyone I've met through the hobby is great, some of the most friendly people I've ever met in my entire life and it's just become a big part of who I am and I don't want anybody to be able to take it away from me," Wangsness said
Many voiced their frustration against Governor Phil Scott.
"Phil Scott, you betrayed the people who voted for you and I want you to remember that when we got to the polls in November," said Wangsness
"I hope he'll honor his word and if he doesn't, he will not get my vote again. Hopefully he'll be a one-term governor and will be now known as trader Phil," said Wadle.
The pending legislation in Vermont also comes after a thwarted school shooting plot in Fair Haven. Supporters of the new regulations say gun violence needs to stop and creating common sense restrictions, like bans against high capacity magazines, are a step in the right direction.
S.55 was passed by the Senate Friday, and now awaits the signature of Governor Phil Scott.