Hundreds of Vt. businesses break accessible parking rules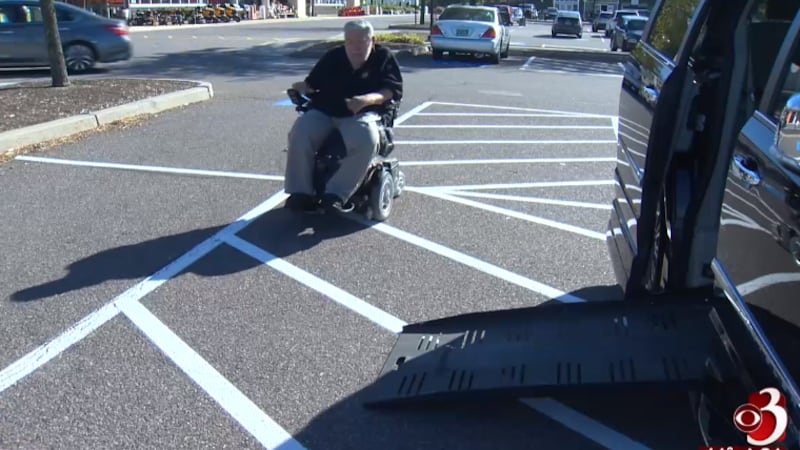 Published: Nov. 2, 2017 at 11:39 PM EDT
The Vermont Human Rights Commission says hundreds of businesses aren't following the state's accessible parking regulations.
The commission says it's often older small, local businesses that aren't aware they are breaking the rules. Still, they're responsible, and state officials want to get the word out.
David Sagi has used a power chair since 1971. The Rutland resident is one of many Vermonters who have trouble finding accessible parking.
"It's frustrating," said Sagi. "You may travel for a long distance for a restroom. Sometimes on the interstate, you'll stop for a bite to eat or to use the bathroom and there's no parking or not enough parking."
"The parking space has to be 96 inches in width," said Karen Richards, the Executive Director of the Vermont Human Rights Commission. "If it's just for a car, so you've got a van accessible space, at least one van accessible space, and then you may have some for cars, then it only has to be 60 inches."
According to the commission, these are the current regulations: You need a sign with the international symbol of access. It needs to be five feet off the ground, so it's easily seen from tall vehicles. The spot has to be leveled, and there needs to be an access aisle for people to get out of their vehicles.
An exception to these rules is gravel parking lots. You don't need to mark striping on the ground, but you do still need a sign showing the space is there.
"Somebody with heart of lung problems, or somebody that has mobility problems that doesn't have a power chair, they're suffering," said Sagi.
Some shops just don't have enough spots. The commission says that if you have four or less spaces at your business, you don't need signage. But for every 25 spots, there must be one that's accessible.
We noticed that while many places attempt to have some sort of accessible parking, they miss the mark.
"Right here in the center of the line, there should be a post, with a wheelchair symbol," said Sagi.
The Motor Vehicles Department says more than 56,000 handicap placards are issued to Vermont residents, but noted that some people may have multiple for different cars.
Richards says the responsibility to comply with parking rules falls on both the business and property owner. Still, no one gets fined for not following the regulations, unless a complaint is filed seeking damages.
"We at the Human Rights Commission follow the Americans with Disabilities Act with regard to how we interpret the parking provisions under our Public Accommodations Act," said Richards.
Sagi, who serves on the state's Accessibility Board, wants to increase awareness.
"Going and talking with a business, talk about the benefits of being accessible, and trying to make change," said Sagi.
If you notice a business out of compliance, or would like to check and see if your own is up to code, Richards says give the commission a call.