In hot labor market local restaurants struggle to fill jobs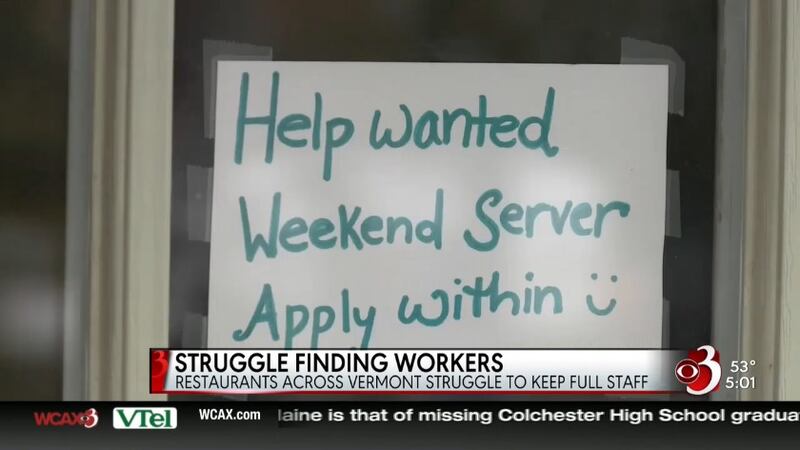 Published: Oct. 5, 2018 at 4:15 PM EDT
New unemployment numbers indicate the rate of joblessness in the U.S is the lowest it's been in decades, and Vermont is following that national trend.
According to the Vermont Department of labor the state's unemployment rate currently sits at 2.8 percent -- that's the 5th lowest in the county and lower then the 3 percent rate where it stood this time last year. But some employers are still struggling to fill open positions, especially restaurants.
Andrew Machanic is the king of the kitchen at the Swingin' Pinwheel in Burlington. "We are just plating up some wafflinis," Machanic said, dishing up the restaurant's signature stuffed waffle.
Outside the restaurant, Machanic says a 'Help Wanted' sign is always out. "Two weekends ago we had some staffing shortages. We managed to get through, but we had to close early as we couldn't keep up with dishes," he said.
The chef of 33 years say his small breakfast and lunch spot near Church Street stays busy, but behind the scenes the lack of qualified kitchen staff has him scrambling. "It's really been one of the most challenging part of owning and running a restaurant," he said.
And he is not alone. Mychaella Devaney takes care of all the hiring at the Church Street Tavern. She says they just recently got to full staff, but it hasn't been easy. "I think with the restaurant industry its always an issue," Devaney said. "You certainly go through waves where it's really difficult to get in applications and have waves where you have way too many applications."
"This is not just a hospitality issue, but across all industries," said Mathew Barewicz, with the Vermont Department of Labor.
Part of the problem, according to Barewicz, is there aren't many young folks in Vermont, and those that are here are focusing more on school, which delays when they start working. "Skills are in demand here in Vermont and we are trying to get the word out that Vermont employers are hiring," he said.
But wages may be an issue as well according to state labor officials. The median wage for all jobs in Vermont is $18.57. Compare that to a dish washer who makes $11.24 and line cook who makes $12.90
"When you can find someone that's qualified, you gotta hang on to them and pay them," Machanic said.
When asked if he thinks the issue might too many restaurants in Burlington, Mechanic says every restaurant owner will say that any restaurant that opened after them will say there are too many.