Is political climate spurring a feminist resurgence?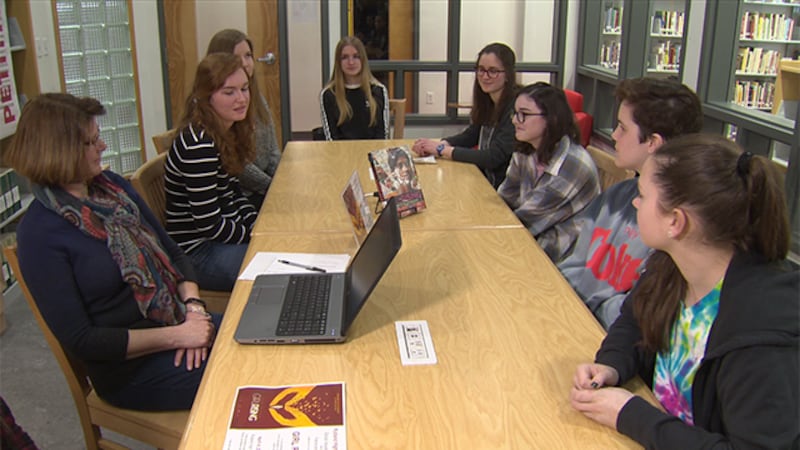 Published: Mar. 29, 2018 at 3:26 PM EDT
When you hear the term 'feminist' what do you think? Someone who hates men? Or someone who just wants equality? The term's popularity has changed over the years. Now there are signs on campus that it is cool, and experts say that could be a big sign of change.
When hundreds of people joined the March for our Lives in Rutland last weekend, student Anny Lin was there to rally them to act for gun safety. Her activism runs deep. She was the driving force behind the Rutland High School Feminism Club, which launched last year.
Lin says she was fueled by her own experience with Chinese culture at home. "Even today boys can be preferred over girls. I've sort of experienced this. My family members might make slight comments about it. And that is one of the reasons why I wanted to start the Feminism Club," Lin said.
The group meets once a week with faculty advisor Ellie Davine, who says she was not so sure when Anny suggested the idea. "My first reaction was -- Feminism Club? Really?" Davine said. She remembers when students were more likely to run from the term feminism than embrace it.
"I think people get mixed up that it's a man-hating belief," said Caitlin St. Germain, a junior at RHS. "The fem club is here to say, no. It's equality for all, not just women."
The group doesn't just share their own experiences with sexism. They organize talks -- and a film screening -- to raise awareness in the community. And they rushed to back
to remove the tax on feminine hygiene products. They say its only fair. "It's not our fault," said Madison Fetterolf, an RHS junior. "It's literally how our body works."
The bill was introduced last year by a group of men. But this year the Club was told the bill is stalled because removing the tax could cost the state about $200,000. They didn't give up, they did more research. "We found feminine products are considered luxury items and we were just like, what?" St. Germain said. Now they have a petition drive to get the bill on track.
"Well, I just have to smile a broad smile," said Madeleine Kunin, the first and only woman elected governor in Vermont. The 84-year-old has written books on feminism and seen the movements progression over the years. From its popularity in the 1970s, to being used by some as a negative label to hold women back.
Reporter Kristin Kelly: Does it surprise you that students at Rutland High School would do this now?
Madeleine Kunin: It is surprising, and maybe it's a harbinger of what's going to come.
Kunin believes the pendulum is swinging in a progressive direction and she points to the gun safety marches and the women's march as visible signs of it. She's also seen it as a guest lecturer on feminism at the University of Vermont. She says she always asks how many people call themselves a feminist. "One or two hands would tentatively go up in the air. And this year I asked -- and this was in the fall -- I said, 'How many of you would consider yourself a feminist?' And almost every single hand went up. And I do think we have to thank Donald Trump for this. Sometimes I think I should write him a card and express my gratitude," Kunin said.
Her advice for the Feminism Club members and their petition drive? Don't give up. Keep your optimism and learn all the details about how a bill actually becomes law. "If you're going to play the game you have to know the rules, and once you know the rules you have to believe it can be done," Kunin said.
The Rutland students are doing the work. "We started reaching out to other high schools in Vermont to try to get them involved," Lin said.
Hundreds have signed the petition so far.
The Feminism Club is sponsoring a screening of Girl Rising, Wednesday, April 4th, at 6 p.m. at the Rutland High School Theater. The film is about young women around the world and the challenges they face just being able to go to school.