Leicester music camp working to repair windstorm damage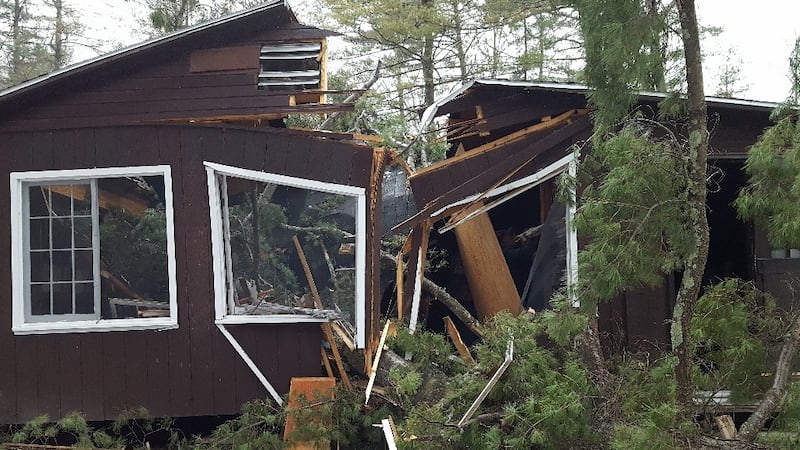 Published: Apr. 18, 2018 at 8:07 AM EDT
A day after powerful winds slammed our region, an Addison County summer music camp is paying a heavy price.
Point CounterPoint on the shores of Lake Dunmore in Leicester draws hundreds of talented musicians from around the country. The season was set to begin soon, but now the owner is worried that storm damage could be the camp's coda.
Branches, shattered glass and a damaged roof show the aftermath of Monday's powerful windstorm.
"It feels really overwhelming right now," said Jenny Beck, who bought the camp 11 years ago.
Now, a tree over 100-feet tall splits the main cabin building in half.
"This is our rec home. This is like the heart. This is the pulse. This is where everything happens," Beck said.
Beck says the lakeside property isn't a summer vacation spot.
"It's haven. It's like a music haven," she said.
Every summer since 1963, lake-goers hear the sounds of young musicians honing their craft.
"You're hearing violins. You're hearing that beautiful string sounds," Beck said.
But now silence, as the school's performance room and grand piano lay in pieces.
"I can't tell you all of the fingers that have played on that over the years, but it's gone," Beck said.
The camp is set to open in June, but Monday night's storm has Beck uncertain about its future.
"We open in five weeks. Can it be done? Is it possible?" she asked.
Now, Beck is asking for help to rebuild and bring back the music that has echoed on the lake for decades.
"How can it not continue? It's such a historical place for everybody on the lake," she said.
Beck hopes to raise $50,000 for a temporary performance space and new piano.