Local company helps disabled navigate the web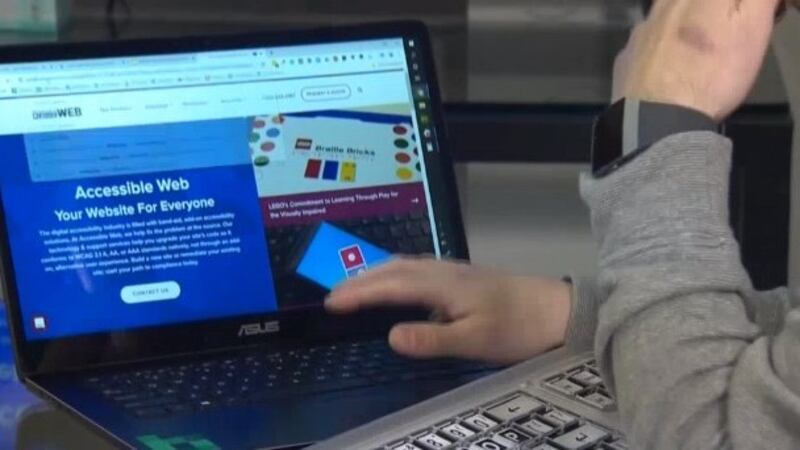 Published: Jan. 31, 2020 at 5:22 AM EST
Navigating a website is easy for most with just a few clicks of a mouse, but it can be a challenge for people with disabilities. That's where a new local company is lending a hand.
"Blind people and people with other disabilities need and want to access the internet the same way as everybody else," said Heather Berg, a Colchester resident with a degenerative vision disease.
That's where the local company Accessible Web comes in. The Burlington web developer created inclusive websites that include zooming, screen reading and closed captioning capabilities, to name a few.
It's a sister company of Bytes.co, which has developed hundreds of websites for local and national businesses. But in 2017, when founder and CEO Peter Jewett was showing his vision-impaired mother-in-law a website, he says it quickly became clear she couldn't use it.
After doing some research, Jewett learned a number of big businesses like Target, Netflix and Domino's had been sued because their websites weren't ADA compliant. He then founded Accessible Web, to make information that's accessible to all the rule and not the exception.
"The web is just an obvious place where we can make lives better and easier for people with disabilities. It's a lot easier for them to sit at their home computer or sit on their iPhone and access information, goods and services than it is for them to actually have to go out in the world," said Jewett.
Since the internet's inception, people with disabilities have had to come up with creative solutions. Jewett says it's simple and fairly inexpensive to incorporate this coding into websites, building a better user experience for all.
For the past few months, Heather Berg has been testing out those tools on websites Accessible Web creates.
"We've both learned from the process. They've learned from watching me navigate with a screen reader, and I've learned what I am navigating and what I can expect," said Berg.
As director of the Division for the Blind and Visually Impaired, and someone with degenerative vision, Fred Jones says using the skills of site developers like those at Accessible Web is how to fill that gap.
"If you design a website well, it's beneficial to everybody. That makes it concise, it makes it clear, it's not cluttered, it's not difficult, it doesn't cost a lot," said Jones.
That is, it's a whole lot cheaper to build an inclusive website than to face a lawsuit.
"We're going to keep advocating and educating until we get to the point where the internet is as accessible as brick and mortar accessibility features that basically we take for granted now, like curb cuts and elevators and automatic doors," said Berg.