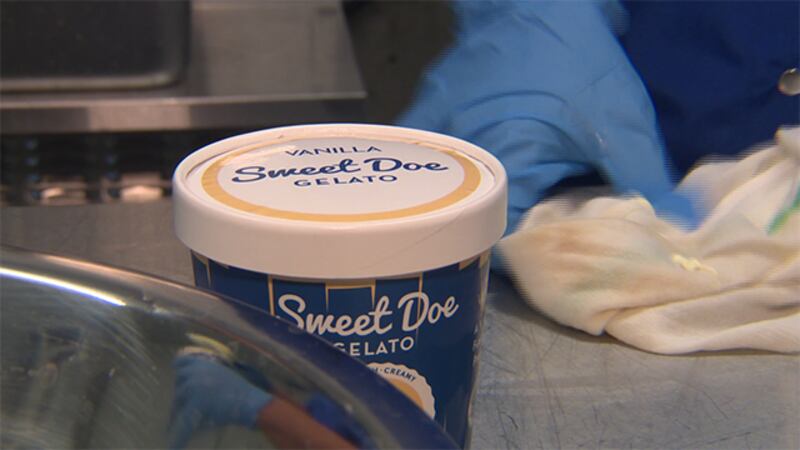 Published: Jul. 23, 2018 at 1:31 PM EDT
There's about a week left to celebrate National Ice Cream month. One Chelsea couple isn't kidding around when it comes to their unique take on the cold, sweet treat that's Made in Vermont.
"Who doesn't like to make Ice cream?" said Michael Davis, who along with his wife, Lisa, have been making gelato for the last year.
"This time of year, I'm in here everyday," Michael said. "Filter it, then into the machine."
But it's been the secret ingredient in this Italian treat that may make you say Bah-ma mia! They use goat milk.
"What's nice is that everyone can enjoy it. Those with lactose issues with cow's milk and protein issues with cow's milk and those without. You'll never know it comes from a different animal," Michael said.
Michael and Lisa don't just make goats milk gelato, they raise the goats that produce the milk.
"It's just from what the animals give us, and the great thing about it is that it results in a product that in the end is lower in fat then most premium ice creams, so you'd never know it from the taste," Lisa said.
After leaving corporate jobs in New York City six years ago, the two gave in to their passion for food and cooking, creating
.
"I think a lot of our friends and family either thought we were crazy or they knew we could do it from the very beginning," Lisa said.
Before the first scoop of gelato was even sold, the couple had to gut an old barn, add a couple of additions and build the creamery. It took about four years. They did most of the work themselves, with a little help from the community.
"Without meeting the people we have, this wouldn't exist. It's a long journey to get here. You wonder if you really are going to get here. And then to see it go to stores, to get the reactions we're getting -- they're so happy to have a product like this on the market," Michael said.
The gelato, which is available throughout retail stores in New England, comes in three flavors -- chocolate, coffee, and of course, Vanilla.
"So that's what you want to see, all those vanilla bean specks," Michael said.
"We wanted to develop something innovative that also tackled a challenge in the marketplace," Lisa said.
An ice cream that agrees with everyone's stomach.