New Hampshire restaurants reopen with outdoor-only seating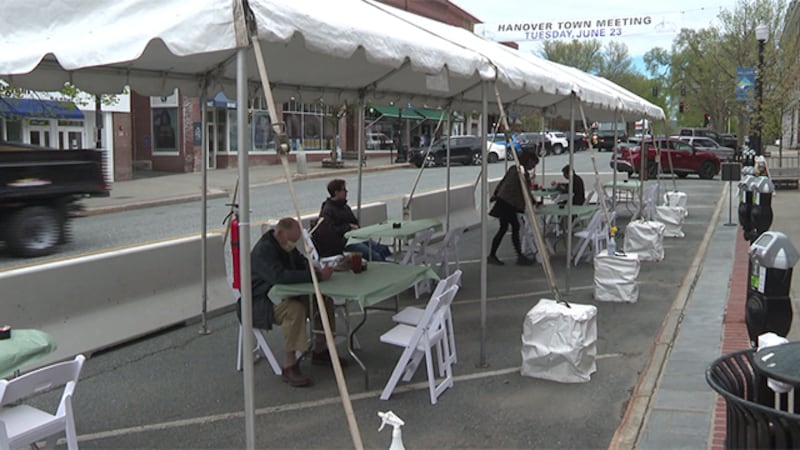 Published: May. 18, 2020 at 10:40 AM EDT
It's another step closer to returning to the way things used to be. New Hampshire restaurants are once again open for outdoor seating.
"A step in the right direction," said James Barrett of Hanover.
Barrett easily found a table at the newly created outdoor seating venue in front of Lou's Restaurant in Hanover. It's a Monday lunch many of us have been craving.
"It's the first dinner out in a while," Barrett said. "I couldn't resist coming."
Patrons can now eat in-- as long as they're outside-- at restaurants in New Hampshire as the state slowly eases restrictions during the COVID-19 crisis.
"To be back in the rhythm of having customers dining in feels really good," said Jarett Berke of Lou's Restaurant.
Town officials helped fast-track the new dining setup, which blocks off several parking spaces on Main Street. Thirty-two seats are available compared to 88 indoors, which is still closed.
"It's not going to be a great year; it's going to be a terrible year. But it is going to be survivable," Berke said.
"If have been a real tough two months but everyone else is in the same boat. But we are just going to get back to it. Going to crawl, walk and then run," said Josh Tuohy of the Salt Hill Pub.
The Salt Hill Pub has several locations throughout the Upper Valley. The waitstaff at the Lebanon restaurant were back to work Monday preparing for the dinner crowd. The business also has an expanded outdoor seating area.
"If you are operating patio only, you are at a big disadvantage for capacity. So, to be able to add to that a little bit I think is going to be a key factor in longer-term survival," Tuohy said.
"I come every day for this lunch and I have been dying to come out," said Ron Michaud of Lebanon.
Michaud grabbed lunch with a friend across the way at Three Tomatoes.
"Had the owner out here and we are celebrating because we are free finally," Michaud said.
Gov. Chris Sununu has made it clear that restaurants are not required to reopen. He has also been spreading the word on how employees can get PPE.