North Beach Campground to be used as homeless tent site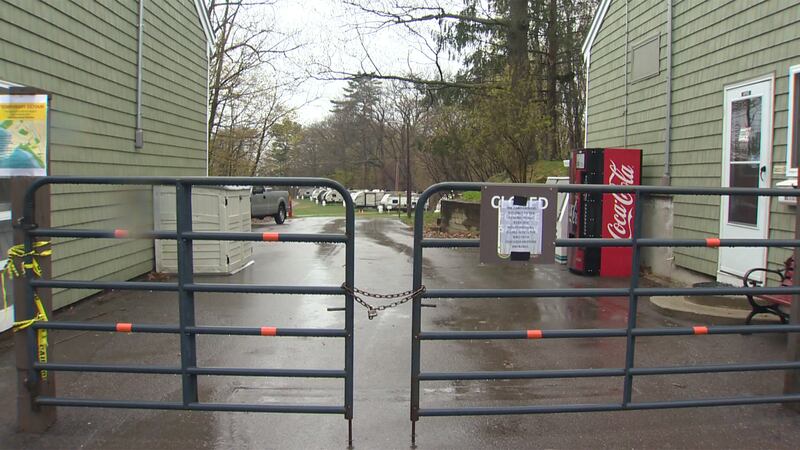 Published: May. 21, 2020 at 12:08 PM EDT
Canceled camping-- Burlington's only campground is closed, possibly for the summer. As our Cat Viglienzoni learned, that's because North Beach is where some of the city's homeless will be setting up their tents. She went to the city to find out why.
With signs up and gates locked, you can't drive down to North Beach right now. The Queen City's only campground will again be home to the homeless.
ANEW Place Executive Director Kevin Pounds says the campground will be the site of a sanctioned tent city starting June 1, a low-barrier shelter to keep vulnerable residents safe.
"We're hoping that creates a little bit of a safer environment for the growing number of homeless individuals who end up tenting during the warmer months here," Pounds said.
He estimates about three dozen people will camp there this summer. His staff will run the site. The same ones who helped this winter and spring when the state had campers here for the homeless to live in. That program ended but the city's parks director says with amenities like bathrooms and showers already in place it made sense to continue.
"We're in the middle of a pandemic, we needed to figure out a solution. And to try to pull up something where there is not those facilities, that is a challenge," Burlington Parks Director Cindi Wight said.
They've already refunded all the reservations. Wight says financially, they weren't sure the campground would be viable because half of their usual campers are from Canada and the border remains closed. And once waterfront events started canceling, so did their reservations. Only 18% of their campground stays are booked by Vermonters.
"Would we potentially have seen an increase in in-state use this year? Probably. But I still am not sure that it would have balanced off the full cost to run a campground this year," Wight said.
But there has been one main complaint she's gotten-- access to the beach which is still open to the public.
"Well, if you've got kids like I do, and stuff, selfishly, it's a lot easier for us to drive in and get the kids in safely," said Craig Stone of Burlington.
Residents like Stone say having this walled off has made recreating here harder. He's glad to hear it's reopening on Saturday and says even people who aren't thrilled about their new neighbors, will realize it makes sense.
"Everyone likes to have a little bit of a grumble. And it'll be a short grumble. And then most people will think, 'Oh, in the long run, it's the right thing to do,'" Stone said.
They will fence off the area that ANEW Place is using. In June, they will reassess whether they can have both a low-barrier shelter site and a campground open to the general public. So it is possible they could still reopen.
In the meantime, they're going to take the opportunity to get some planned construction projects out of the way.
And despite the closed gates, it's not stopping people from flocking by.