Priest, orphanage allegations trigger trauma for abuse victims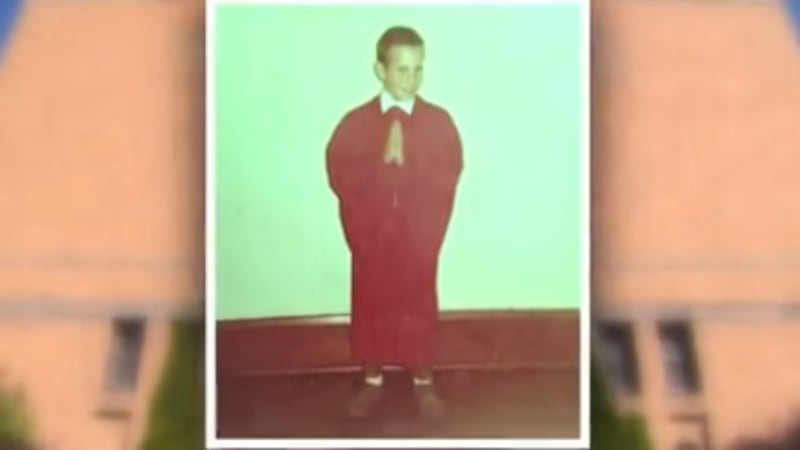 Published: Sep. 27, 2018 at 2:47 PM EDT
A task force looking into allegations of decades-old abuse -- and possible murder -- at a Burlington orphanage continues its investigation. It may be decades-old, but that and other new allegations of sex abuse against priests in other states are triggering memories for Vermont victims who suffer ongoing emotional torment. And one of those victims is speaking exclusively with Channel 3 News in his first television interview.
"My parents were proud of me for being an altar boy," said Mike Gay.
He says he was excited as his family waited in the congregation at Christ the King Church in Burlington to witness his first day as an altar boy. The then 11-year-old rushed down a set of stairs to find Father Edward Paquette just before Sunday service. That's when it all began. "There he was, fully exposed, with his pants around his ankles," Gay said.
Paquette pretended it was a mistake and that Gay arrived too soon. The little boy was embarrassed at what he saw and never said a word. "Everyday I had to serve I was sick," Gay said.
He says the incident was a test to see if he'd tell. A way for Paquette to groom Gay to be his next victim. "He was the closest thing to God in our eyes, and going to church was supposed to be a safe place. It was a living hell for me," he said.
Gay says Paquette would corner and molest him after mass every time he served. "I remember times I would just run home. For a while, everyone was a molester to me, everybody who wore that black shirt and white collar," Gay said.
He began abusing alcohol and remembers the first time he thought about suicide,playing with a friend near the railroad tracks as a train approached. "I remember placing my head on the track and turning my head away from the train and thinking to myself it could all be over, no more abuse, just stay there and let it happen. It was just one of many many times I didn't want to live," Gay said.
He hid the pain and what happened to him for decades. "We lived in silence. There's so much guilt and shame, like we did something wrong. We were kids. I had to put everything aside and act normal," Gay said.
Put aside until a fiery crash nearly took his life in 2002 and a flood of agonizing memories flashed back. "I could have been so different. I don't know who I would have been if none of this happened," Gay said.
He told his family about the abuse and got into therapy. He eventually sued the Catholic Diocese of Burlington in 2004. It was the first high-profile lawsuit against the church that played out publicly, with the church accused of protecting priests and shuffling known abusers to different parishes.
The diocese has now settled about 50 cases with abuse victims in Vermont, paying out more than $31 million. Gay got about $900,000, but says it'll never really be 'settled.'
"All of this stuff happening now is just driving a knife in my heart and I feel for so many people who can't speak about this," Gay said.
Recent allegations of sex abuse against 300 priests in Pennsylvania and claims of horrific abuse at St. Joseph's orphanage in Burlington are reopening Gay's wounds. He's back in therapy. "It's just making people like myself relive every time they were abused and every old thought," Gay said.
"Here in the diocese of Burlington we have learned from our mistakes," said Bishop Christopher Coyne, who became Burlington's tenth bishop in 2014. He wasn't around when this all happened, but he says the church must continue to own up to these atrocities.
Reporter Daren Perron: What is the church doing to make sure this never happens again?
Bishop Christopher Coyne: I wish I could say it's never going to happen again, but I think we have done everything we can humanly possible to make sure this never happens again.
He says protocols, like background checks, ongoing training to spot abuse and abusers, audits, and mandatory reporting to police are helping to protect Vermont kids now. But he recognizes the healing is far from over for abuse victims from the past.
Reporter Daren Perron: Did the church fail these children?
Bishop Christopher Coyne: Absolutely. We failed them in a number of ways. One, we failed them in that they were abused. That priests and others were in power and used that to take advantage of these children and teenagers. Then we failed them in not being as quick to remove priests and failed them sometimes in not believing them when the stories were told. We failed them in covering up even when it was discovered. We failed them in a number of ways.
"My mother and father always said do the right thing and I hope I am making them both proud," Gay said.
He says he hopes telling his story will get other abuse survivors that are suffering in silence to seek help either through therapy or through friends and family.
And for him, when it all gets to be too much, taking turns at Thunder Road helps clear his mind in his number 3 car. He's known as "Biffer" at the track and he hopes someday his pain will be left in the dust. "I am protecting that little boy inside when nobody else would," he said.
Bishop Coyne says there have been two allegations of sex abuse made against Vermont priests since 2002. Both were investigated. While one case was dismissed, the other led to charges against Father Stephen Nichols. He pleaded guilty to a sex crime and is no longer a priest.
Darren Perron continues the discussion with Bishop Coyne coming up this Sunday morning at 7:30 a.m. on You Can Quote Me.