Progressive thinkers gather in Burlington for Sanders Institute event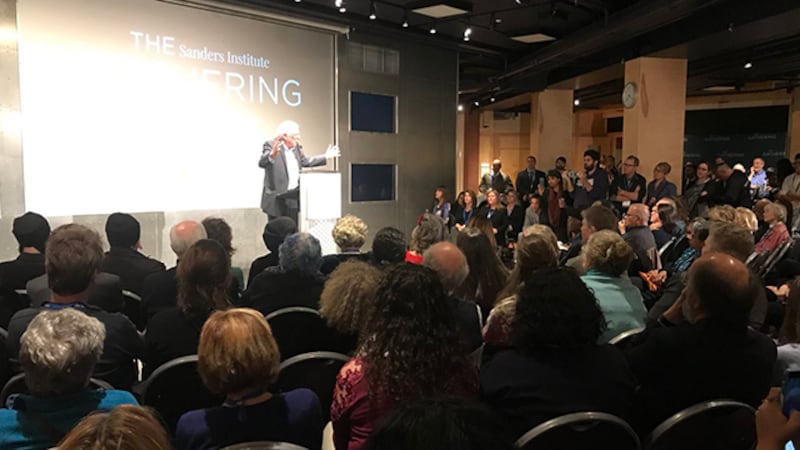 Published: Nov. 29, 2018 at 6:23 PM EST
The Sanders Institute kicked off its three-day conference at the ECHO Center Thursday night.
"The role that we can play and you are playing, that we are all playing is forcing discussion about issues that the establishment does not want discussed," said Sen. Bernie Sanders, I-Vermont.
Sanders addressed a room of 250 fellow progressives from around the country.
Politicians, celebrities and activists, including former New York gubernatorial candidate and "Sex and the City" star Cynthia Nixon, spread across the room. They listened to the senator kick off the first day of the Sanders Institute gathering.
He gave an overview of the wide range of topics to be tackled over the next two days.
"You work 40 hours a week in America you should not be living in poverty," said Sanders.
He shared his position on each issue like workers' rights, poverty and health care.
"Maybe, just maybe, we might want to do what every other major country on earth does: guarantee health care to all people as a right, not a privilege," said Sanders.
Over the next 48 hours, dozens of speakers are expected to make their pitches on how to address what the institute describes as the nation's "most pressing issues."
One of those speakers is Mayor Carmen Yulin Cruz of San Juan Puerto Rico.
"Sometimes when you want to push a bold agenda forward, you feel alone. It's important to hear voices, not necessarily that think precisely like you. But are on the same path that you think the world should go to," said Cruz.
"Our job is to do exactly the opposite of what Trump is trying to do. He is trying to divide us up based on the color of our skin, our sexual orientation, our religion, where we were born. Our job is to bring our people together around a strong progressive agenda that speaks to the needs of all and not just the one percent," said Sanders.