Questions on immigration, race follow Trump to Arizona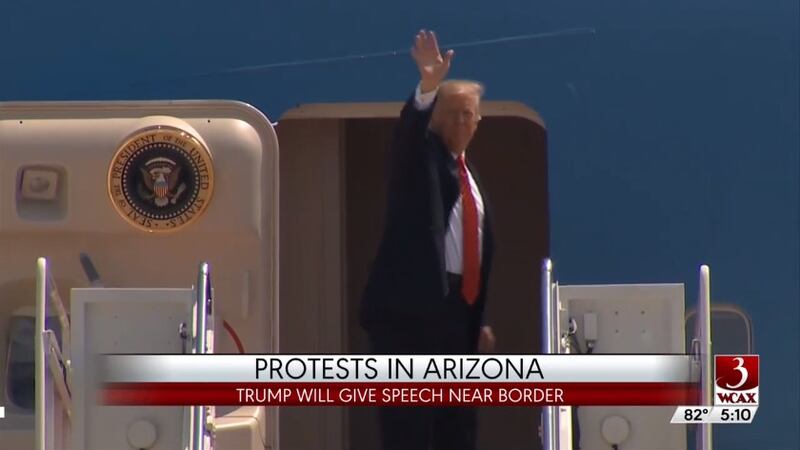 Published: Aug. 22, 2017 at 4:06 PM EDT
Protests in Phoenix began well before President Trump arrived in Arizona.
"We're here today to form in unity, to march, rally and protest the politics of hate," said Regina Romero, a Tucson City councilwoman.
Phoenix's Democratic mayor asked the president to delay his campaign-style rally over concerns protests may turn violent like the one in Charlottesville, Virginia.
"I believe that the true intention is really to inflame people's passion to further divide the country and that's why the president should delay this trip to Phoenix," said Mayor Greg Stanton, D-Phoenix.
Phoenix Police and protesters have clashed in the past and officials say they don't want to go through that again.
"I will assure you that we are well, well prepared," Phoenix Police Chief Jeri Williams said.
The president himself stirred concerns for some when he retweeted a Fox news story claiming he's considering pardoning controversial former Arizona sheriff Joe Arpaio. Arpaio, a big Trump supporter, was sentenced to six months in jail after a federal judge ruled his office carried out illegal traffic patrols targeting immigrants.
"It will be a slap in the face and a miscarriage of justice if this individual is pardoned," said Channel Powe of the Arizona Coalition for Change.
The president is unlikely to pardon Arpaio during this trip, but he is likely to tout tougher border security and call on Congress to pass funding for the border wall.
Before going to Phoenix, the president will make a stop in Yuma, Arizona, where he will tour a customs and border protection office as well as a Marine air base.