Sailing program helps cancer patients leave worries on land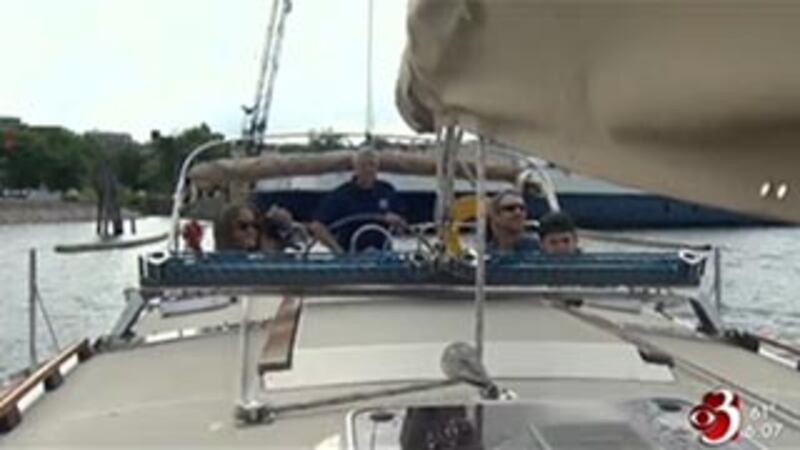 Published: Jun. 27, 2018 at 6:55 AM EDT
Hundreds of thousands of people are diagnosed with cancer every year across the country. Which is why a local cancer survivor decided to launch a program allowing those battling the disease to set sail and temporarily leave their worries behind.
Healing Winds started in 2014 as a kind of therapy for cancer patients. People climb aboard a sailboat to create memories with loved ones. They set off from the Burlington Waterfront three times a day, six days a week.
Being out on the waters of Lake Champlain is a chance for cancer patients like Karen Newman to leave their worries on land.
"To leave cancer and all the treatments behind for a moment changes your life," Newman said.
This isn't Newman's first time with Healing Winds, and it's not her first round of cancer. We first introduced you to her back in 2016 when she was in remission from metastatic stage 4 breast cancer. They found tumors in her lumbar spine and in her pelvis.
"You can only imagine how devastating that news was," Newman said.
For the second time, her cancer is back in the same spot and doctors tell her it's terminal. Newman says to be on the boat is about being in the moment and celebrating life with her family and loved ones.
That's all part of the mission of Healing Winds Vermont, and something Newman's oncologist, Dr. Kim Dittus, supports.
"This gives patients the opportunity to take back some control in a situation where they don't have a lot of control," Dittus said.
Grabbing the helm allows cancer patients to steer off into Lake Champlain, leaving them with just the open water.
To take part, patients are nominated to Healing Winds and they don't even have to live in Vermont. The boat ride is free and allows for patients to bring up to 10 family members and friends. The only reason the organization would deny a person is if they are currently in remission or don't have cancer.
"It really gives you an opportunity to cast off the lines and be present on this vessel. And you really leave everything ashore," said Suzanne Johnson, Healing Winds founder and executive director.
The ride is a memory that Newman's family says they will remember long after she's gone.
"It really plants seeds of hope, and that's so important, and the legacy of love lives on," Newman said.
"The smiles on everybody's faces-- it's something that I will always remember," said Steven Stetson, Newman's brother,
Right now, Healing Winds is solely based here in Burlington, but in two weeks they will be adding another location in Salem, Massachusetts. They are also looking to expand to 13 other cities around the county.