Scott signs burn pit registry bill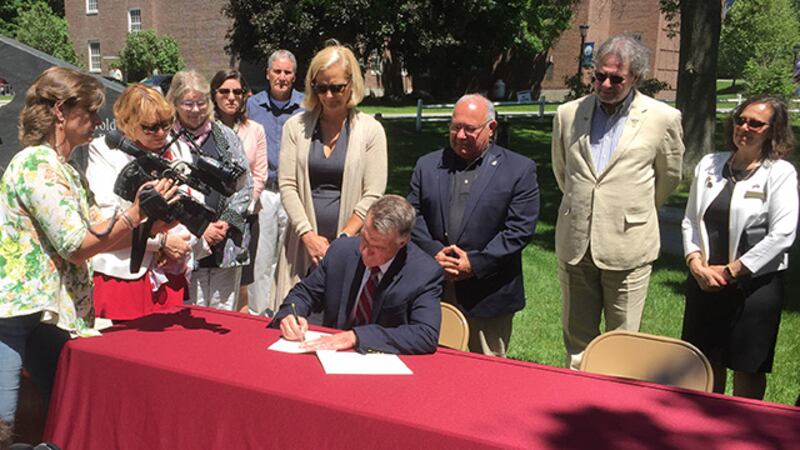 Published: Jun. 17, 2019 at 11:17 AM EDT
Gov. Phil Scott signed a bill Monday aimed at getting Vermont veterans who have served overseas to sign up on a national registry that tracks symptoms of those who have suffered from burn bit exposure.
"Bittersweet" and "emotional" were terms the Governor used to describe the new burn pit law.
He says It would alert veterans to a registry for those who may have been affected by burn pits in the Middle East and raise awareness about their dangers.
"We can't save those we have lost, but maybe we can prevent future losses because of this piece of legislation," Scott said.
He called the law a good start, but says there's more work to do on the national level, pledging to talk to other governors in the memory of a Vermonter he called a friend. "We owe him a debt of gratitude that we will never be able to repay, but this is a good start," Scott said.
Retired Brigadier General Michael Heston died of pancreatic cancer last fall. Cancer, that he told Channel 3 News, he got from toxic chemicals in military burn pits.
General Michael Heston: Those burn pits were going 24-7. They just never stopped.
Reporter Darren Perron: And what was in them?
General Michael Heston: Everything. The best way to explain it is everything... The smoke from the burn pits was so heavy it would hang over the base.
Heston's wife, June, says he wanted his story to make a difference. "He knew when he signed up to be in the military that he was willing to give his life for his country. He didn't know he was going to do that years later, off the battlefield, in the battle of his life. But I think that knowing something good has come out of this, he would be happy about that," she said.
And now she and other families are fighting for the federal government to step up and take action. She wants to make sure other military families don't have their loved ones go undiagnosed and their medical and disability claims don't get denied. "As more and more people become aware, they're going to fight. The veterans aren't going to have to fight for themselves. The public is going to fight for them," June said.
And she's already been invited to take her message straight to Congress at a hearing this fall. "I'm not done with this fight for sure," she said. "There are families that are being affected nationwide and they're feeling ignored."
There's only so much the state can do, but there is pending legislation on Capitol Hill called the "Burn Pits Accountability Act." It would direct the defense secretary to authorize health assessments of whether someone may have been exposed to burn pits or toxic chemicals and add them to the Open Burn Pit Registry. That bill is currently making its way through various House subcommittees.