Study finds more people using apps to track sleep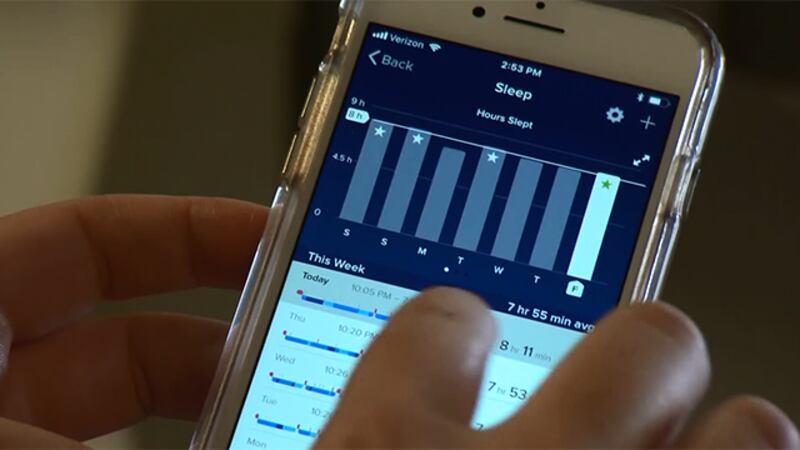 Published: Mar. 26, 2018 at 2:05 PM EDT
More and more people are using their phone to track their sleep habits according to a new study.
Getting a good night's sleep used to be a challenge for Sarah Collier, but the 42-year-old says once she started monitoring her sleep with her Fitbit six years ago. She's had more restful nights. "I have to be much more routine based. Take the dog for a walk and try to be in bed by 9:30, and then with the idea of being asleep by 10. And then waking up by 6:30," Collier said.
Now a new study from NYU's School of Medicine looks at using popular phone apps that track sleep.
"The study found that sleep tracking is a constellation of other healthy habits. People who reported sleep tracking also reported really good nutrition and regular exercise habits," said Dr. Rebecca Robbins, the study's author.
She say the study shows men are more likely than women to track their sleep. The most popular apps for sleep tracking in the study were Fitbit, Lose It, and Apple Health. "People really liking the ability to collect data about their behaviors from a day-to-day basis and then improve those behaviors," Robbins said.
Tracking her sleep led Collier to make some big changes. "I've discovered that I need to turn off all screens an hour before I actually think I'm going to go to sleep," she said. "I've noticed that having drinks at night--unfortunately--affects my sleep. I've noticed having caffeine after 4 p.m. affects my sleep."
She says she's now averaging a good eight hours of sleep a night.
Dr. Robbins cautions more study is needed to see how effectively apps measure sleep and how those measurements can be used to gauge changes in sleep patterns.