Submerged car removed from Lake Champlain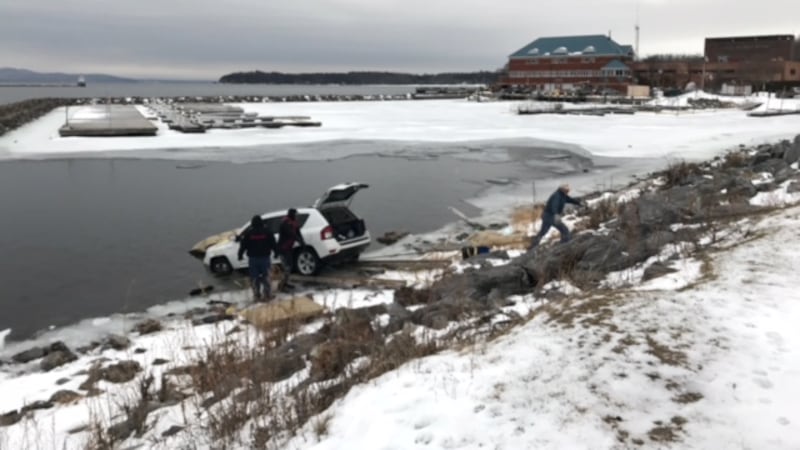 Published: Jan. 22, 2018 at 11:55 AM EST
A car that has been stuck in Lake Champlain for more than a week is finally out of the water.
It sounds like a scene from a movie -- friends from Connecticut on a ski vacation in Vermont get lost, turn on their GPS, and next thing you know they are driving on a lake as the car is sinking. Well, that's exactly what happened earlier this month.
"I was speechless," said Tara Guertin, the owner of the Jeep that had an unexpected run-in with Lake Champlain. "My first thing was, 'Is everybody OK?' Because this could have had a very bad ending, and luckily everybody was alright."
The car sank to the bottom of the lake. To get the car out, Guertin called Donley's Underwater Salvage, who reached out to diver Pierre Larocque.
But the way this car went down, Larocque says, came with some challenges. "The two hard parts will be rolling it over on to its wheels, and then pulling it out from here. And then from here we will load it on a trailer and move it away," Larocque said.
So on Monday Larocque was tasked with flipping the car over and then pulling it out -- all underwater. "Typically when a vehicle goes through the ice it goes down nose first. The weight of the engine takes it down," Larocque said. "We'll hook lift bags to it and pick it straight up and then move it out so we can work on it."
He says he doesn't remove a lot of cars from waterways in the winter because of all the ice, but the location of this car made it a priority. "You wouldn't want to leave it there. I mean it's right in the opening of the Coast Guard station, so anything that's deep draft boats, vessels -- even their buoy tender coming in and out -- is going to hit it, so it's got to go away. It can't stay there for environmental reasons," Larocque said.
Larocque says he just wants to make sure he and his team are safe. And after 10 days of waiting, and five hours in the cold, finally the Jeep emerges.
And now that the car is out, Guertin is happy to put this behind her. "I'm like amazed, and I think I'm going to have to buy him a bottle of something when he's done," she said.
No charges were filed against Guertin. Officials say it's not against the law to drive your car on the lake.