Travel warning issued for Americans in Mexico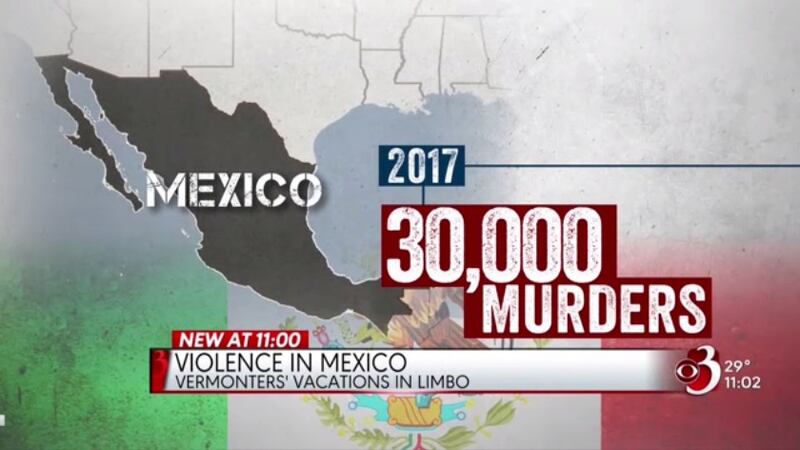 Published: Mar. 9, 2018 at 10:02 PM EST
The state department is warning people about the dangers of traveling to a popular tourist town in Mexico.
Recent violence, like an explosion of a tourist ferry last month, has government officials warning Americans to stay out of Playa Del Carmen, Mexico.
"There is information that there could be a violent attack in the next few days," said Eric Olden, the Director of Wilson Center Latin America Program and expert of security issues in Mexico.
Olsen says 2017 was the country's deadliest year on record, with nearly 30,000 murders.
With recent attacks like the ferry explosion and a shootout in Playa del Carmen night club, some travelers say, it's not worth the risk.
"We have one family that is leaving tomorrow that's carefully considering whether they want to change plans or not," says Scott Milne, the president of Milne Travel in Barre.
Millne says although some are considering backing out of travel plans, three other families booked flights to Mexico through his travel agency Friday morning.
"It's important to some people and irrelevant to other people," says Milne.
Mile says he advises travelers to avoid areas like the ferry that have already been targeted.
He also says that threats are nothing new, and haven't prevented people from traveling to other countries with warnings in the past.
"If you look at the state department map right now, that part of Mexico has got the same 'be careful' warning that most of Europe has, that China has, that all kinds of places that we often travel to have," says Milne.
Although airlines allowed people to re-book flights over the past week for weather-related risks, they aren't giving that option to travelers who are hoping to get their money back because of the threats.