Vt. Air National Guard says F-35 preparations underway, vote or not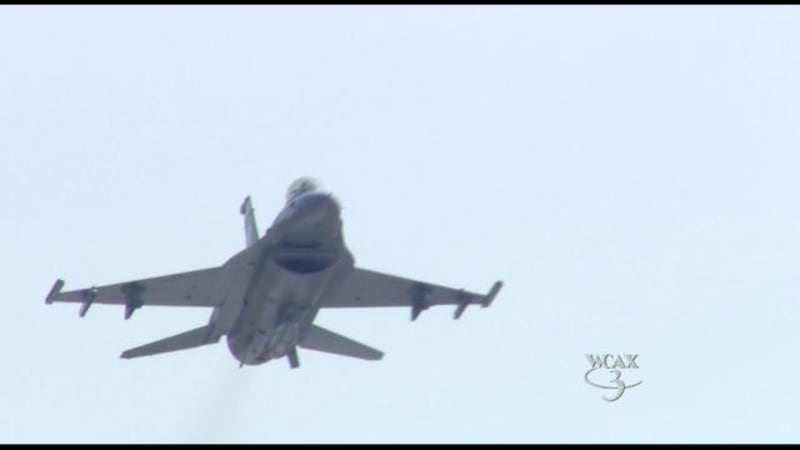 Published: Jan. 19, 2018 at 5:10 PM EST
The military says it's set to base the F-35 fighter jet in Burlington by next fall, but opponents have renewed a long-simmering fight to prevent the next-generation fighter jet from landing.
A plan to base the military's F-35 jet in Burlington has sparked nearly a decade of debate. Efforts to stop it have included lawsuits and anti-campaigns. The latest -- a group called the Coalition for a Livable City.
"We urge the public to join together to protect the right to vote on an issue of fundamental importance, and not allow the mayor to force F-35 basing and bashing on Burlington without a vote," said
James Leas, a long time F-35 opponent, and ring leader of the group.
The group says they've gathered nearly 3,000 signatures in a petition for a citywide ballot question on Town Meeting Day in March. It asks whether the City Council should cancel plans for the airport to be home of the aircraft, and submit a request for a quieter plane.
"Because Burlington owns the airport, according to our lawyer, they have the legal right to say what comes and goes from that airport," said the group's Rosanne Greco.
The wing commander of the Vermont Air National Guard, Col. David Smith, confirms the Air Force's own reports have shown the F-35 will generate generally higher noise levels than the F-16, the aircraft currently based in Burlington. "Jets are loud," he said. "The data said that it was, but we continue to work with the airport and work with our local ops to mitigate noise."
The first F-35 is scheduled to land in September of next year. The Guard says pilots are already performing flight training out of state, and they're even using its name in recruiting campaigns. And new construction has also started, symbolic of the Guard's confidence that the new planes will call Vermont home.
Multi-million dollar renovations are already well underway ahead of the F-35's arrival, including a building that will house training and operational support for pilots. Among the changes -- a new simulator building, maintenance hangar, and operational facility.
"We're in the transformation phase right now. We're under a mission change truly to the F-35, and there's a significant transformation going on around the base to be able to bed down the F-35," Col. Smith said.
Even if the opponents measure goes to voters, the question is non-binding and could result in no changes at all. The Burlington city attorney did not respond to a WCAX request for comment on the F-35 vote.