Still in the Shadows - Part 3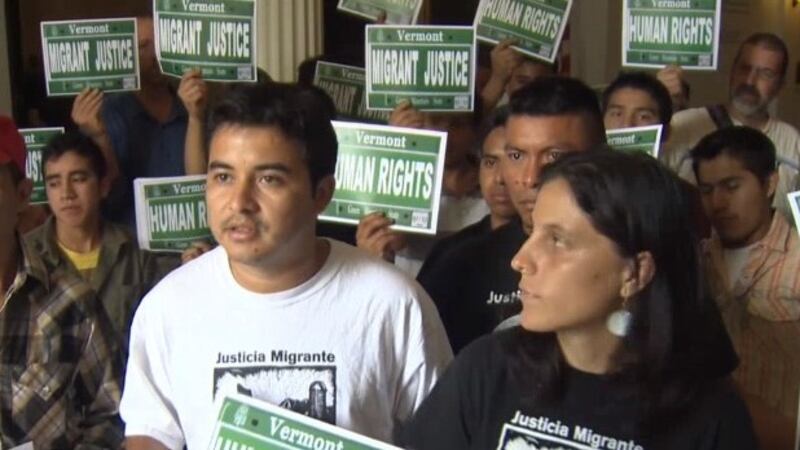 Published: Oct. 9, 2019 at 9:19 AM EDT
Vermont state officials are not hiding from the fact that undocumented farm workers are working in the state. And as federal immigration policy is getting stricter, migrants have benefited from help from local groups and the state.
Franklin County is home to 116 dairy farms, more than any other county in Vermont. Enosburgh Falls is right in the heart of that farm country and on any day it's not uncommon to see farmers out and about in town. But migrant workers? -- that's a different story.
"It would certainly seem like they don't venture far from the farm," said Ryan Niecharz of Jeffersonville.
"They are really hard-working people and they tend to stay to themselves," said Randy Martello of Richford.
Even at the corner store, sightings of this mostly Central American population are rare. "I have never seen them come into the store. I don't even think they leave the area. I don't think they leave the farm," said Amanda Wilson.
"They are human beings just like we are," said Paul Gervis, one of the owners of the Gervis Family Farm. They have two locations just about 10 miles from the northern border. He says they have several migrant workers on their farm. He turned to them after Vermonters were not applying.
Reporter Ike Bendavid: How vital are migrant workers on your dairy farm?
Paul Gervis: Well, they want to get out there. They want to help and anybody that wants to help on a farm is very vital.
But to understand why many don't see the migrants and the work they do, Gervis puts it in TV terms. "The people you don't see, the people behind the scenes, just like you guys producing something, we may not see," he said.
Out of focus and out of the picture, but not forgotten by everyone. "If you feel like a soda you can just go to the store -- well they can't," said one local woman who spends her days helping migrant farm workers. "Just think about what you eat, drink, every product you use -- shampoo, creams, lotions, potions - I mean ever single thing you want."
The woman, who asked us not to reveal her identity, says what started as a messenger service to help drive and translate for migrant workers on farms, turned into a full-time job as a mobile market and taxi service for migrant workers. She visits dozens of farms and opens up shop. She even takes special requests for the next visit. Her work provides a measure of comfort for people living in the shadows. Because most of her customers are here illegally, she feels she also has to stay in the shadows. "I don't want anyone tracking me to a farm and finding them. I mean Border Patrol knows where the workers are. I don't mean to imply they don't know. It's a secret but not a secret," she said.
"What I have found over the last few years has been a mutual dependency," said Dan Baker, a community development professor at the University of Vermont. Over the last decade he has been researching migrant farmers in Vermont and conducting surveys of the workers, farmers and the public.
Reporter Ike Bendavid: Are they still living in the shadows?
Dan Baker: They are still living in the shadows... and i think that is largely due to changes in federal policy
Baker points to increased enforcement of immigration laws under President Trump. But at the state level, Vermont has taken steps to welcome migrant workers. That includes driver privilege cards, fair and impartial policing policies, and even a move by some communities to extend the right to vote in local elections.
The Vermont State Police confirm that effort. They say that out of thousands of interactions with the public there has only been one case in the last three years where they have turned a migrant to border patrol, and that person committed a crime.
"The challenge is Vermont by itself cannot change that federal policy," Baker said.
Reporter Ike Bendavid: What can be done?
Dan Baker: I think that we could talk about programs to address some critical issues, for example housing, transportation and access to health clinics.
Baker added that one area he believes has not been focused on enough is the mental health of migrant workers. He points to not only the trip they have made to get here, but the conditions of being a non-native person in Vermont and the stress of potential arrest and deportation.
So what has changed in the ten years since WCAX first uncovered this foreign work force in the shadows? Farmers, especially large farmers, tell us migrant workers are vital to their operations. Of the estimated 1,000 migrants on dairy farms in our region, most came to the country illegally or overstayed their visas. But based on arrest statistics provided by the Border Patrol, it appears federal agents are willing to leave them be as long as they remain on the farm -- still in the shadows.