Vermont organization now delivering food to the homeless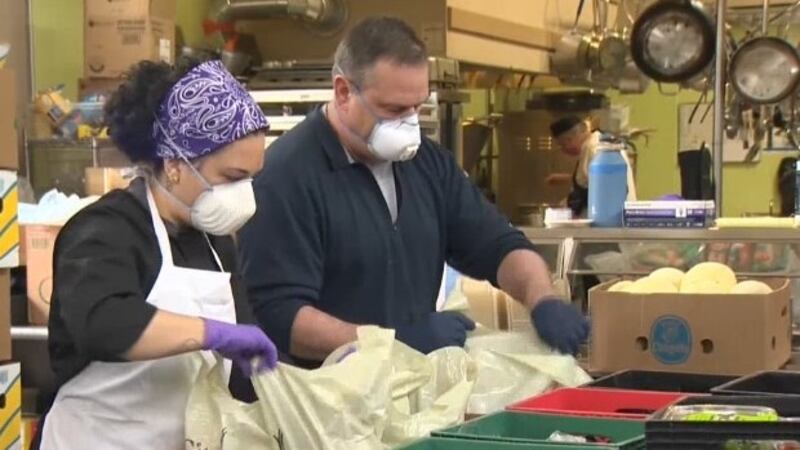 Published: Apr. 3, 2020 at 4:44 AM EDT
A local organization is trying to help the homeless population stay healthy during the coronavirus pandemic by feeding them.
The state's Economic Services Division is housing the homeless population in hotels during the coronavirus outbreak, but that only addresses one of two basic needs -- shelter and food.
Feeding Chittenden is now distributing groceries Mondays, Wednesdays and Fridays to more than one 1,000 people a week and has transitioned its soup kitchen, serving 60 people daily, to a takeout dining program.
It's also delivering 200 meals to individual houses every month. To cover the extra costs in gas, cleaning supplies and carryout containers, the organization now has a $150,000 fundraising goal. The group is also delivering hundreds of meals daily.
"This place touched me from the first time I saw it, and so there's no way I wouldn't work here," said Thron Crowe, a volunteer with Feeding Chittenden.
Like many, Crowe was laid off from his restaurant job when Vermont's stay home, stay safe order took effect.
"For about a week I really didn't have much to do. I like to be active, I like to get out," said Crowe.
When Feeding Chittenden's Chef Jim Logan contacted Crowe about the new Emergency Meal Delivery program, he jumped at the chance to lend a hand.
"I love this place. It's what gave me my vocational education for culinary and set me on my path for the past year, actually," Crowe said.
The effort is powered by Feeding Chittenden's Community Kitchen Academy, a course in which students receive a basic culinary education to kick-start a career.
The program is paused amid the coronavirus outbreak, but the organization mobilized the staff and alumni.
Every single day the five-person team cooks, portions and packages more than 900 meals a day. Breakfast, lunch and dinner for more than 300 homeless or displaced individuals are delivered to those currently staying at eight different area hotels, motels and inns.
"So there's shelter, but we really want those individuals to stay there and not have to come into town or even come to us to get food because that really defeats the purpose of creating a safe environment for them to self-isolate," said Hannah Harrington, the annual fund manager for Feeding Chittenden.
Harrington says it's a huge undertaking, one that's grown consistently over the last week, as the state's economic services team house more people who'd otherwise be on the street.
"Every day are having to work on their toes and adapt to fill this ever-changing need," said Harrington.
Harrington says Feeding Chittenden isn't just distributing food, it's curating balanced, nutritious meals that embrace the notion that food is medicine.
"We're in the middle of a health crisis and we want to do everything that we can to keep people healthy," she said.
Volunteers like Crowe say they take pride in the program as an opportunity to hone their own culinary skills while providing a crucial service.
"There's no reason to reduce our quality," Crowe said. "The same quality training that we received from Chef Jim. Again, we're just translating it forward."