Veterans come together in Burlington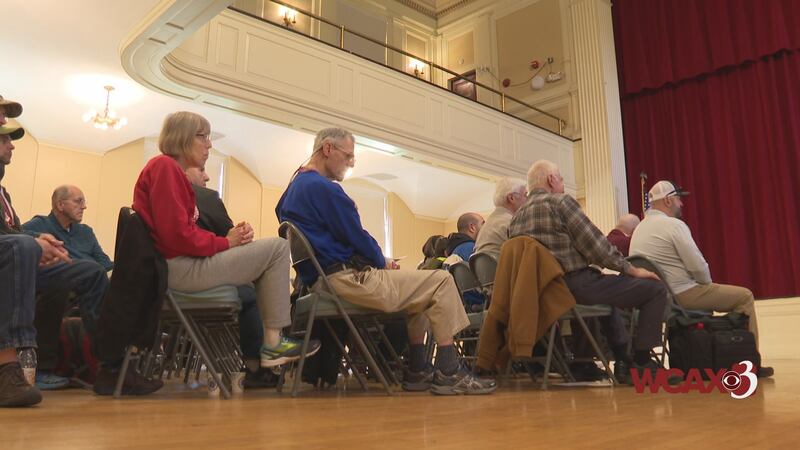 Published: Nov. 4, 2018 at 7:27 PM EST
Dozens gathered at Burlington City Hall Sunday afternoon to hear about the experiences veterans had while overseas.
Joshua Gerasimof listened in.
"Some of them have been through hell. But when we stick together, we can really work as a community and we can heal as a community," Gerasimof said.
He's one of Vermont's more than 42,000 veterans. Now, Gerasimof works in the Burlington Lakeside Clinic, helping veterans like himself.
"When you can actually see and hear what a veteran goes through, and see them outside their camouflage, I think that's an important message," Gerasimof said.
The town hall encourages veterans to take advantage of the resources available to them. Gerasimof said the first step toward getting help is often the hardest. Hearing from other veterans can be the motivation to better themselves.
"You get that friendly or that brotherly hug, it really gets them to move out of the shadows and come through," Gerasimof said.
Lt. Gov. David Zuckerman wanted to hear from veterans directly about what they need from their government.
"We're certainly limited in resources in a lot of ways. And so the question is either where can we find the resources in what we have or what can we shift to make this a priority," said Zuckerman, D/P-Vermont.
For veterans, the transition to civilian life is a never-ending battle.
"Just because you're out of the military, it doesn't mean the mission's over. It just means the mission's changed," Gerasimof said.
In Vermont, no soldier is left behind.