Vt. Board of Ed gets an earful from districts fighting forced mergers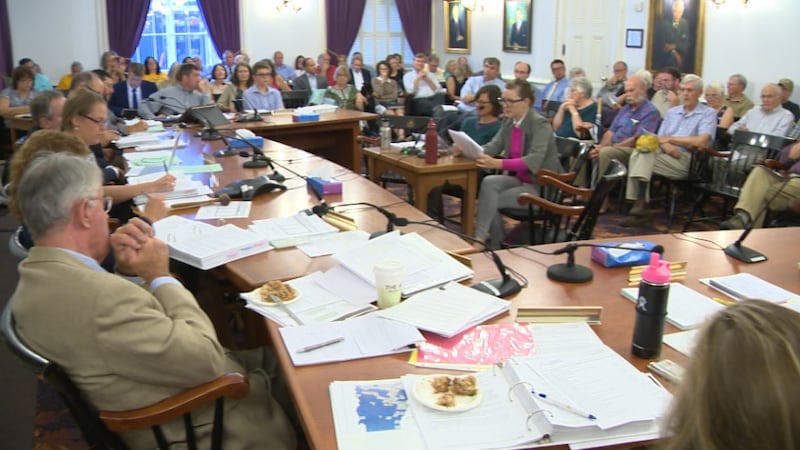 Published: Aug. 15, 2018 at 3:30 PM EDT
The State Board of Education is in the final phase of implementing Act 46, the landmark school governance consolidation law. While the law has resulted in many voluntary district mergers, a number of districts seeking alternative plans say they are angry at what they see as the state's heavy-handed approach.
Pamela Fraser is trying to keep her local school in Barnard open. The town wants the state Board of Education to approve an alternative plan it crafted instead of the forced consolidation proposed by the state. It's a similar story in Huntington and the five towns that comprise the Washington Central Supervisory Union.
"The loss of our school after four years is not a mere theoretical concern but a reasonable, foreseeable consequence of this recommended merger," Fraser told board members at a public hearing at the Statehouse Wednesday..
"The only possible benefit from merger has to do with efficiencies -- administrative efficiencies," said Paul Susen, a member of the Huntington School Board.
Act 46, passed in 2014, encouraged local school districts to consolidate into larger ones. It offered property tax incentives to entice voters. While some districts did consolidate, others have held out. Now, the law calls for the state board to decide their fate by the end of November.
"Do I think we're going to accept every section nine proposal as is? No. Are we going to accept the secretary's report as is? No," said Krista Huling, the board of ed's chairwoman.
The board heard from dozens of school board members and the public, with plenty of passion and even anger on display.
"A lot of it's just local control and running the school the way we wanna run our school, not the way all the other towns wanna run the school with us," said Peter Stone with the Orwell school board.
"We as the town of Calais will fight this. We will challenge it legally in court and we are even considering our own school closure and starting an independent school," said Richard Keene of Calais.
"This is a once-in-a-century legislation," Huling said. She says the last major redistricting was in 1892 and that the passion and arguments happening today are similar to back then. "We were very prepared for the passion and anger, and honestly, I'm glad there's passion."
Huling says the board will continue to hear from local districts and residents and meet the end-of-November deadline for decisions.