Vt. Board of Education plows ahead with forced mergers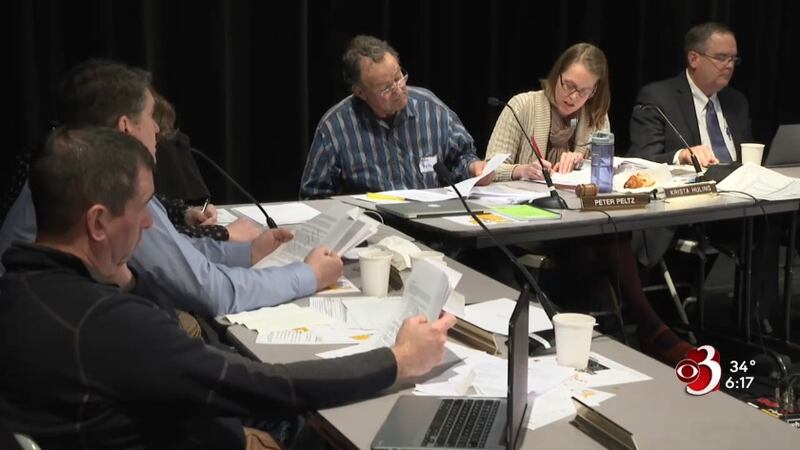 Published: Nov. 28, 2018 at 4:50 PM EST
Emotions ran high Wednesday as the Vermont Board of Education approved an Act 46 plan to merge the Stowe, Elmore, and Morristown school districts.
"It's very frustrating," said Erica Loomis of Stowe, one of many parents attending the St. Albans meeting who said they were deeply concerned by the board's 5 to 4 vote. Loomis has a daughter who is not yet school age. "It's missed work for days to attend these board meetings, and I'm trying to keep the emotion out of it."
Residents in the three towns submitted a plan a while ago as an alternative to merging the schools, but it was denied.
Loomis started an online
last week that has gathered over 1,100 signatures opposing the merger. "We have great graduation rates, we have great testing scores above the state averages," she said. "If it's not broke, don't change it -- and we're one of the few districts that are thriving."
Board of Education chair Krista Huling would not comment on whether the petition was factored into the board's decision. She says the board has heard proposals and feedback for three months already. "If people aren't getting what they want, it doesn't mean we're not listening," she said.
But for many in attendance who say they have been ignored, the frustration was palpable. "Given the agenda, it doesn't really matter," said Alan Ouellette of Stowe. "It's more about dotting the i's and crossing the t's."
Some of the board members expressed their own frustrations with the process, saying there is a disconnect between the people of Vermont and the board. "I would say that until I taught myself about this, I tended to have a somewhat dismissive attitude towards the proposals of people far away in small towns that I do not know," said board member John Carroll.
But other board members say they've done their homework, pouring over documents for months, and they're still not convinced a merger would hurt the towns. "We want the ultimate opportunity for all our students in the state of Vermont, and once again, if you are going that well, let's share it," said board member Mark Perrin.
"I don't see how, to move forward, it's best to have two board making separate decisions, and so this is really about governance. It's not about the schools themselves," Huling said.
People watching the vote seem to think a lawsuit could be on the way, a course that several districts have already taken. One attendee stood up and walked out, telling board member the courts would decide some of the issues discussed.
Lamoille South Superintendent Tracy Wrend said the three school boards will meet Wednesday night to discuss possible legal options.