Vt. Board of Education takes action on controversial Act 46 mergers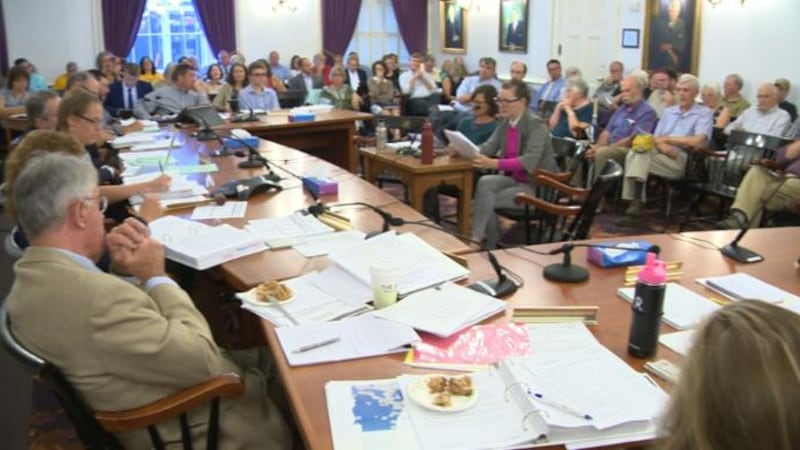 Published: Oct. 18, 2018 at 10:03 AM EDT
The Vermont State Board of Education voted Wednesday to move forward with several controversial forced school mergers under Act 46, the state's school consolidation law.
At their meeting in Hartford, board members took action on 31 out of the 43 proposals. Those included forced mergers of the Brattleboro Union High school board with the Brattleboro, Putney, Guilford, and Dummerston boards. They also voted to consolidate the Washington Central Supervisory Union school boards that include the towns of Berlin, Calais, East Montpelier, Worcester, and Middlesex.
The board voted against the mergers of districts including Arlington, Canaan, Coventry, Sharon, South Hero, Strafford, Thetford, Vernon, Windsor/West Windsor, and Wolcott.
The board voted to merge the Missisquoi Union High board with its three member districts of Swanton, Highgate, and Franklin. The plan for Sheldon, an "orphan district," remains undecided.
The board approved consolidating the Oxbow Union High School board with Newbury and Bradford.
The board also approved consolidating the elementary districts of Windham, Cambridge, Huntington, Orwell, and Barnard.
Act 46, passed in 2014, encouraged local school districts to consolidate into larger ones. It offered property tax incentives to entice voters. While some districts did consolidate, others have held out. The Agency of Education this summer
on those districts that had not merged voluntarily or developed acceptable alternate governance structures.
Opponents of the forced mergers have said that the move will result in loss of local control, and during hearings this summer some districts threatened legal action.
The Scott administration, including new Secretary of Education Dan French, have defended the plan, saying it will eventually lower costs and improve educational opportunities for students attending smaller schools.
French Thursday said he understands these are difficult, often unpopular decisions. "I think you'll find that most of the districts are experiencing financial improvements and outcomes for kids in terms of benefits and learning opportunities. but I will say it is very challenging work. You know, the comment about it being smooth -- for a lot of districts they have used a lot of their capacity just to merge and really need some support to take it to that next level and start to really realize some of the goals that were establishing already," he said.
The issue has also come up on the campaign trail. Democratic candidate for governor, Christine Hallquist, has stated that she is opposed to the forced mergers.
The State Board Education has until the end of November to issue its final plan.