Vt. Senate approves emergency remote voting measure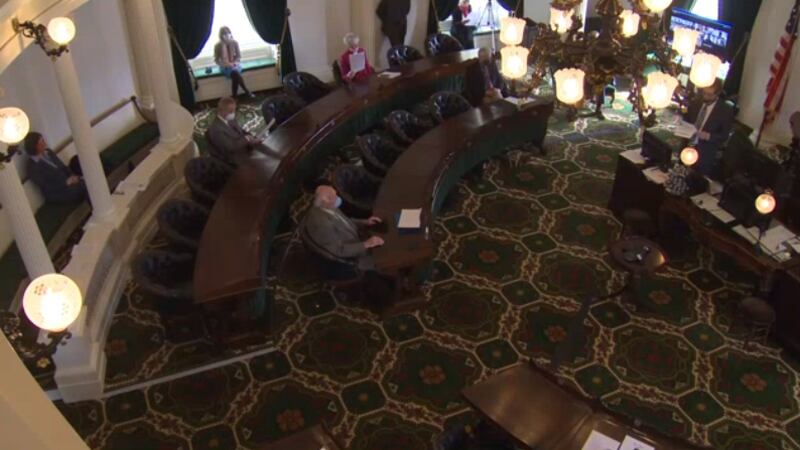 Published: Apr. 8, 2020 at 8:43 AM EDT
Vermont lawmakers returned to Montpelier Wednesday to approve short-term emergency measures that will allow them to vote remotely.
To keep lawmakers, reporters and Statehouse staff safe from COVID-19, the Vermont Senate approved remote voting. This is a first in Vermont state history where business has always been conducted in person.
Sixteen out of 30 senators, the bare minimum to hold a vote, came back to the Statehouse wearing bandannas and face masks to vote on the temporary rule change.
Senate leadership and some staff will still have to physically show up to the Statehouse to moderate the discussion, but others will have the choice to vote over video conferencing.
"It is always harder when you're not face-to-face with the people you work with. It is going to be a work in progress," said Senate President Tim Ashe, D/P-Chittenden County.
"We will not be perfect, but this is our first attempt in making that work," said Sen. Joe Benning, R-Caledonia County.
In the coming weeks the Senate is only tackling COVID-19 related bills, where top lawmakers expect bipartisan support. When lawmakers dig into non-pandemic issues, lively debate over amendments and could put the new system to the test.
The remote voting rule is only in place as long as Vermont's COVID-19 state of emergency. Until it's over, lawmakers say they want to set the best example for Vermonters on the merits of social distancing and self-isolation. But they also say that some legislative issues need to be taken care of in person.
"All the must-pass bills that we're going to have to do, whether it's this year's budget, next year's budget, dealing with all the revenue and education issues, it's so much easier to do it in person," Ashe said.
The Senate is expected to hold its first remote vote on Friday.