Vt. officials to work with Norwich University on cyber protection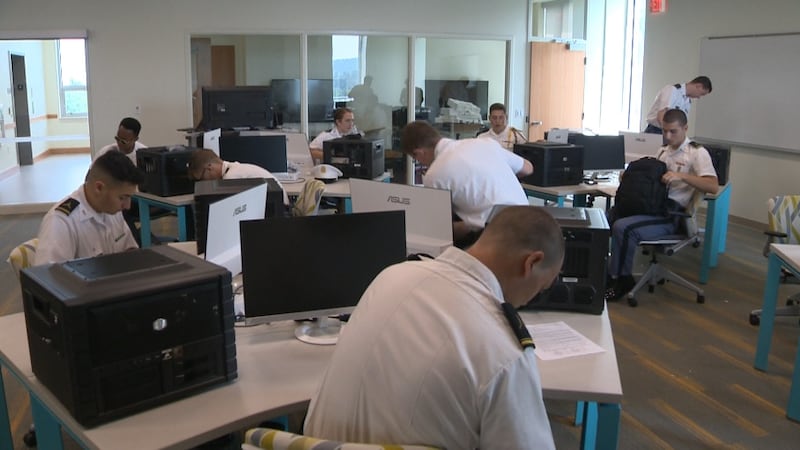 Published: Aug. 28, 2018 at 3:31 PM EDT
Cybersecurity is a top concern for the government, businesses and the public. Now, Vermont officials are teaming with Norwich University, which has one of the top cybersecurity programs in the country -- an important program in a world increasingly linked to computers and filled with malicious actors.
"There's many threats from home and abroad. Some of the greatest threats at the moment are intellectual property threats from the likes of our defense contractors," said Huw Read, director of Norwich's cybersecurity program.
The school just opened a cyber war room where students are trained to be the next generation of cyber protectors. There's also a new digital forensic lab where internet-connected devices are analyzed.
"We look at what evidence is left on devices and how we can put away the guilty and as well exonerate the innocent, perhaps in a court of law," Read said.
Vermont is looking to tap into the school's capabilities to help thwart the million-plus digital attacks it faces each year.
"There's all kinds of attacks coming into the state network 24 hours a day, seven days a week, and right now we're not staffed for that type of around-the-clock coverage," said Vt. Agency of Digital Services Secretary John Quinn.
Quinn is working on a contract with Norwich to operate a security operations center for the state to help protect Vermonters' data. "We hold all kinds of data for Vermonters, whether it's your driver's license, your IRS data, your medical information health records," he said.
The center will be staffed by students and serve as additional real-world training. Phil Susmann, Norwich's vice president of strategic partnerships, says students helped protect the Super Bowl in 2016. And they'll help again with college football's national championship game in January. "We were embedded within the security operations center within the stadium sitting right next to FBI and DHS as well as a large group of students back here support it," he said.
After graduating, some of the students will likely go on to work for the Department of Defense, NSA, CIA and the private sector.
"All of the above, absolutely. We have a number of students as well that end up going to industry and providing services for things like banks, insurance companies and so on, where there would be a catastrophic loss of information should those kinds of companies be hacked," Read said.
The cybersecurity program at Norwich has 230 students, all of whom are learning in the new $1.6 million war room.