Vt. sampling program provides benchmark for water quality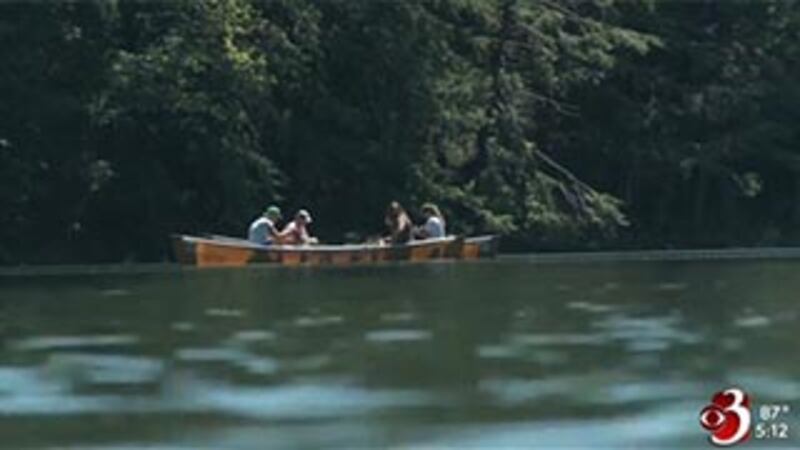 Published: Jun. 29, 2018 at 4:15 PM EDT
When Vermont and federal officials refer to "water quality" what does that mean? And how do they decide what "healthy" means for the state's lakes and ponds? For the last six years the state has been collecting samples from remote lakes to provide a benchmark.
To get to High Pond in Sudbury, you'd better be ready to hike with your gear. And for the lake monitoring team from the Vermont Department of Environmental Conservation, that means trekking two canoes and a hefty backpack of sampling equipment half an hour uphill through the trees.
It might be worth it just for the view at the end, but this remote pond has special significance because it's so far from everything else.
"We're using this set of lakes as that reference condition," said Kellie Merrell, a DEC aquatic ecologist.
This is one of the state's 13 sentinel lakee, bodies of water in Vermont relatively untouched by humanity and the ecological challenges humans bring.
"They'll be a nice comparison between a lake that is at the other end of the spectrum -- that is very stressed by nutrients, development and other stressors," Merrell said.
For Merrell and her team it's like a typical day at the office. They find the deepest part of the lake, set down an anchor and take samples. They're looking at nutrients like chloride and earth metals like calcium, along with alkalinity, pH, dissolved oxygen, turbidity, conductivity, dissolved organic carbon and lake color. It's a lot of information, but the data collected will be used to figure out how healthy other lakes and ponds in the state are.
This is all part of a continuous monitoring effort that New Hampshire, Vermont, and Maine are all in on. It means that High Pond is going to get buoys eventually that test for oxygen, temperature, and water level. And that will happen every hour, which gives scientists data that they can use as a benchmark for what other lakes should be.
And there's a way for members of the public to get involved too. "She mentioned something like, 'Gee, I wish we had somebody who could go up to that lake and monitor things each week.' And I went, 'Oh, I'll do that,'" said Skip Abelson, a volunteer from Sudbury who collects his own samples in partnership with the state. He's the first one to step up to work with the state on one of these sentinel spots. "It's a great excuse to come up here every week."
Reporter Cat Viglienzoni: What is special about this particular spot?
Skip Abelson: I mean -- look...
The state says without volunteers like Abelson, they'd get to this spot just once a year. With him on board, they get data each week.