Wildlife Watch: In search of Bicknell's thrush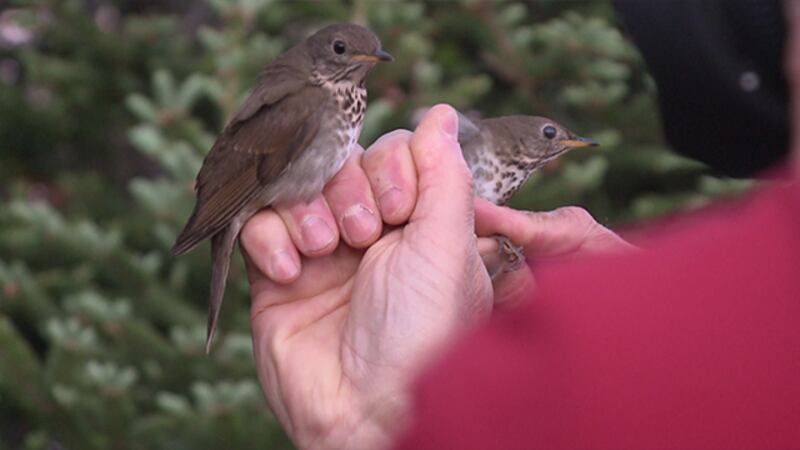 Published: Jun. 26, 2018 at 3:54 PM EDT
The Bicknell's thrush is a threatened songbird that spends its summers atop some of the highest peaks in Vermont and the Northeast. They are also part of the longest-running banding study of mountain birds in eastern North America.
"It's just beautiful out here," said Gary Starr director for the Otter Creek Audubon Society.
Starr's group isn't just admiring the views from the top of Mount Mansfield, they are here on a mission -- their second annual trip to get a first-hand look at bird banding.
"It's just being part of a group with a common interest," Starr said.
"We are setting up a net -- a fine, nylon-mesh net that we are going to use to harmlessly capture any bird that flies into it. We hope," said Chris Rimmer with the Vermont Center for Ecostudies. "We are trying to learn, basically, about the health of the bird populations that nest on these mountain tops."
Rimmer and four others spend the day walking these trails, setting up about 25 nets.
"Really effective way to sample birds," Rimmer said.
While the nets are designed to capture any bird that flies into it, Rimmer says they are looking for one bird in particular.
"The Bicknell's thrush is one of the rarest species of songbirds in eastern North America, about 100,000 or so in the world," he said. "It's a vulnerable community of birds. These habitats are vulnerable to many different factors, from climate change especially, atmospheric pollution, acidic precipitation, mercury, development from ski areas, from communication towers like these... being rare and living in a vulnerable habitat, we are concerned about it."
Once nets are up, it's a waiting game. After about an hour, the crew heads back out to see what they caught.
"It's a Yellow-rumped warbler," Rimmer says, carefully extracting the bird tangled in the net. "We must very carefully, gingerly remove the legs and the feet first."
Once freed, each bird goes into a little cotton bag to later be weighed and recorded. Then it's on to the next site.
Some are not the target species they are looking for.
"Robins complain more than other species," Rimmer says, untangling a chirping captive. Others are already banded. "Probably a bird we already caught this year."
Still no Bicknell's thrush, but the day isn't over yet.
"This is our primary-- the rare Bicknell's thrush," Rimmer says, showing off his catch. "They are not the most glamorous looking bird in the world. They are sort of inconspicuous, a little muted in their coloration."
Once caught, all birds are examined. Rimmer then uses the data to track long-term trends, specifically looking to see if birds start changing where they nest as a result of climate change.
"This is really our main focus and has been for a quarter of a century because it's rare, because it's vulnerable and because it's got some fascinating biology," Rimmer said.
"These people have learned an incredible amount about the birds. They love the birds, they respect them. You can see it by the way that they are holding them and treating them. But they also engage the people that are out here," Starr said.
Once the bird is examined beak to toe, they're released.
"It's an interest that almost anybody can have at any age. We have some people here who are over 80 years old. I'm over 70 myself and it's great. I plan to be birding for another 20 years," Starr said.